| | |
| --- | --- |
| Subject: | Urgent Business Proposal!!! |
| From:   | Mrs. Chan Yoke Moi. <chanyokemoi@financier.com> |
| Date:   | 2018-01-23 |
| To:   |   |
| Reply-To:   | chanyokemoi_03@outlook.com |
Hello Dear,
Hi, I hope this mail meets you in good state of mind. My name is Mrs. Chan Yoke Moi, I got your contact information from a reputable business/professional directory. I'm working with HSBC Bank Malaysia Berhad as one of the Senior Vice President. I am writing you this memo, because I have an urgent BUSINESS PROPOSAL for you that will benefit both of us and it's urgent.
Please, write me on my personal e-mail for more Details. (chanyokemoi02@financier.com)
Yours Faithfully,
Mrs. Chan Yoke Moi.
---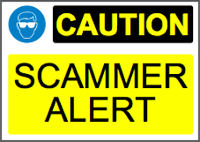 Scam alert! The E-mail above is a SCAM. It's a Nigerian Money scam, the story and all names & roles are fake. The scammers will most likely ask you for money upfront as 'costs' before you get the 'payment' (which you will never get offcourse).
If you've received this by e-mail than mark it as SPAM (if possible) and/or DELETE it.