| | |
| --- | --- |
| Subject: | We Are Still Waiting To hear From You |
| From:   | Mrs. Juliet Roland <allen@rebehomes.com> |
| Date:   | Sat, 7 Jul 2018 |
| To:   | |
| Reply-To:   | deliveryagency0010@gmail.com |
Dear Beneficiary,
This is to officially inform you that we have written to you severally without any response and we believed that our previous mails did not deliver and that the reason for this letter. We are contacting you once again concerning the release of your inheritance fund / ATM card which has been delayed for transfer by some officials who claim to be in position of your fund thereby extorting monies from you in one way or the other. Your Fund has finally been approved for transfer by the U.S. Department of the Treasury Monitoring Unit. Your fund will be transferred to you via ATM Master Card which is cash-able in any ATM machine or Bank anywhere in the
world.
We hereby inform you that the ATM Master Card worth US$4.8, million US dollars has been as the first part payment of your inheritance fund which has been delayed by these officers who claim to be in position of your fund.
Therefore the Director of the Federal Bureau of Investigation, Mr John Edgar Hoover warned all foreigners including U.S citizen to stop any further communication with anybody concerning your inheritance funds.
Your fund is to be released via Master Card ATM in act to uphold the rule of law which we represent. You have to reconfirm the information below for security reasons. And also be informed that delivery agent will leave this
country as soon as you comply with (Courier) Company requirements. Send them the following information of yours for the conclusion of your ATM Card delivery:Crown Logistics & Deposit Services AND DELIVERY COMPANY , Rev Michael Obodo.
1. YOUR FULL NAMES:
2. Delivery Address:
3 PHONE NUMBER:
4. CELL NUMBERS:
5. EMAIL ADDRESS:
6. SEX:
7. AGE:
8. OCCUPATION:
9. COUNTRY:
10. CITY:
11. COPY OF UR PASSPORT OR ID
Therefore you have to stop contacting anybody or offices regarding the check since I have authorized the bank to issue you an ATM CARD so that you can withdraw your fund to avoid any further problem. Contact him once
you received this email.
E-mail: (deliveryagency0010@gmail.com)
Thanks for your anticipation.
Mrs. Juliet Roland
---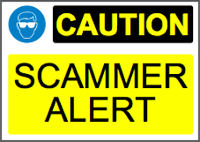 Scam alert! The E-mail above is a SCAM. It's a Nigerian scam, the story and all names & roles are fake. The scammers will most likely ask you for money upfront as 'costs' before you get the 'funds' (which you will never get offcourse).
If you've received this by e-mail than mark it as SPAM (if possible) and/or DELETE it.