| | |
| --- | --- |
| Subject: | Re: Greetings to you your@email.address |
| From:   | Mrs. Lisa Jubril <captjoeberry@gmail.com> through phila.onmicrosoft.com |
| Date:   | 2016-09-01 |
| To:   | your@email.address |
| Reply-To:   | mrslisajubril@gmail.com |
Accept my warmest greetings to you your@email.address
My name is Mrs. Lisa Jubril, I live in New York City, I want to entrust a huge amount of money in your care. I will tell you the reasons for my actions immediately I received your respond through my email address below,
Best Regards
Mrs. Lisa Jubril
---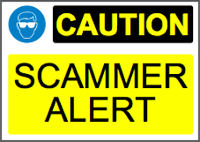 Scam alert! The E-mail above is a SCAM. It's a Nigerian scam, the story and all names & roles are fake. The scammers will ask you for money in advance as 'costs' before this 'transaction' can happen (which will never happen offcourse).
If you've received this by e-mail than mark it as SPAM (if possible) and/or DELETE it.