| | |
| --- | --- |
| Subject: | Hello My Good Friend, |
| From:   | Mrs ROSE WILLIAM <zone@saudimall.net> |
| Date:   | 2016-11-09 |
| To:   | |
| Reply-To:   | gennis401@gmail.com |
Hello My Good Friend,
I AM Mrs ROSE WILLIAM….. AND I AM VERY HAPPY TO INFORM YOU ABOUT MY SUCCESS IN GETTING THAT FUND TRANSFERRED. NOW I WANT YOU TO CONTACT MY SECRETARY ON THE INFORMATION BELOW AND RECEIVE YOUR COMPENSATION OF $500,000.00 IN ATM MASTER CARD FROM HIM:
NAME.MR George ennis
EMAIL:( gennis401@gmail.com )
CALL ON THIS ( +234 8133976909)
SEND HIM THE FOLLOWING INFORMATION TO PROVE YOURSELF TO HIM:
YOUR FULL NAME ……………………….
YOUR ADDRESS ………………………..
YOUR COUNTRY ………………………..
YOUR NEAREST AIRPORT………………….
YOUR AGE…………………………….
YOUR OCCUPATION………………………
YOUR PHONE NUMBER ……………………
NOTE THAT IF YOU DID NOT SEND HIM THE ABOVE INFORMATION COMPLETE, HE WILL NOT RELEASE THE ATM CARD TO YOU BECAUSE HE HAS TO BE SURE THAT IT IS YOU.
ASK HIM TO SEND YOU THE TOTAL SUM OF ($500,000.00)USD IN ATM MASTER CARD, WHICH I KEPT FOR YOUR COMPENSATION.
NOTE ALSO THAT I WILL NOT BE REACHED BY EMAIL OR PHONE FOR NOW BECAUSE I AM CURRENTLY AWAY FOR INVESTMENT PURPOSE WITH MY SHARE AND I WILL BE BUSY TILL ABOUT SIX MONTHS TIME OR A YEAR.
REGARDS,
Mrs ROSE WILLIAM
---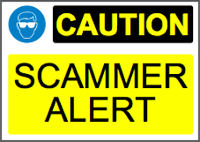 Scam alert! The E-mail above is a SCAM. It's a Nigerian scam, the story and all names & roles are fake. The scammers will most likely ask you for money upfront as 'costs' before you get the 'funds' (which you will never get offcourse).
If you've received this by e-mail than mark it as SPAM (if possible) and/or DELETE it.