| | |
| --- | --- |
| Subject: | re |
| From:   | Ms. Ella Golan <daniela.ibanez@studiof.com.co> |
| Date:   | 2016-09-18 |
| To:   | Recipients <daniela.ibanez@studiof.com.co> |
| Reply-To:   | egolaan1@foxmail.com |
I am Ms.Ella Golan, I am the Executive Vice President Banking Division with FIRST INTERNATIONAL BANK OF ISRAEL LTD (FIBI). I am getting in touch with you regarding an extremely important and urgent matter. If you would oblige me the opportunity, I shall provide you with details upon your response.
Faithfully,
Ms.Ella Golan
---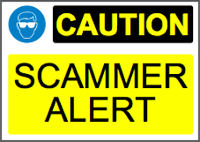 Scam alert! The E-mail above is a SCAM. It's a Nigerian scam, the story and all names & roles are fake. It will most likely be about some big amount of money that could be yours. The scammers will ask you for money as 'costs' before you get the 'funds' (which you will never get offcourse).
If you've received this by e-mail than mark it as SPAM (if possible) and/or DELETE it.