| | |
| --- | --- |
| Subject: | Partnership Request |
| From:   | Al-Amin Dagash <admin@mylookupserver.info> |
| Date:   | Tue, 23 Apr 2019 |
| To:   | your@email.address |
| Reply-To:   | Al-Amin Dagash <aladgashgh@gmail.com> |
I apologize for getting in touch with you in this unsolicited manner but I do have a proposition that I would like to discuss with you. I have certain funds that need to be moved out of Ghana immediately. I am looking to partner with somebody to assist me in this. Please note that it is not criminal in any way, nor will either of us be breaking any laws. I am willing to handsomely compensate you for your assistance.
Regards,
Al-Amin Dagash
---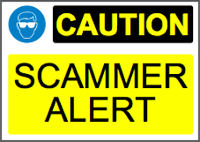 Scam alert! The E-mail above is a SCAM. It's a Nigerian scam, the story and all names & roles are fake. The scammers will most likely ask you for money upfront as 'costs' before you get the 'funds' (which you will never get offcourse).
If you've received this by e-mail than mark it as SPAM (if possible) and/or DELETE it.