| | |
| --- | --- |
| Subject: | Re: [Final Award Notification] |
| From:   | British National Lottery <noreply@national-lottery.co.uk> |
| Date:   | 2018-04-04 |
| To:   | your@email.address |
| Organization:   | BRITISH NATIONAL LOTTERY |

HAPPY HOME LOTTO INTERNATIONAL
NATIONAL FREE LOTTERY
CODE NL/UK 0001 UNITED KINGDOM

                       REF: IPL/4249859609/WP1
                       BATCH: GL/91663/A
             AWARD FINAL NOTIFICATION
  We happily announce to you the draw of the Happy Home Lottery International programs held on the April 1st 2018 in West Midlands, England. Your e-mail address your@email.address attached to ticket number: 3-88-606 with Serial number EU/B-UK 04/02018-UHI drew the lucky numbers: 0328904411,which subsequently won you the lottery in the category (A).
  You are therefore been approved the total sum of One million British Pound in cash credited to file No.21300/18. This is from a total cash prize of Ten Million British Pounds, shared among the first Ten (10) lucky winners in this category (A). Please note that your lucky winning number falls within our European booklet representative office in Europe as indicated in your play coupon. In view of this, your One million British Pound would be released to you by our consultant firm in HAPPY HOME. Our consultant will immediately commence the process to facilitate the release of your winning as soon as you contact them.
  For security reasons, you are advised to keep your winning information confidential till your claims is processed and your fund remitted to you in whatever manner you deem fit to claim your prize. This is part of our precautionary measure to avoid double claiming and unwarranted abuse of this program by some unscrupulous elements.Please be warned.
For you to collect your prizes, kindly fill the request details below and send it to our department Agent, confirming the receipt of this notification.
HAPPY HOME AGENT
Administrative Staff
Tel : +44-703-184-3964 , +44-704-207-6988
Email : fmsb.agent@gmail.com

             VERIFICATION FORM
FULL NAME:
AGE:
SEX:
NATIONALITY:
FULL ADDRESS:
EMAIL ADRRESS:
COUNTRY OF RESIDENCE:
PHONE AND FAX NUMBER:
MOBILE NUMBER
OCCUPATION/POSITION:
COMPANY:
TICKET NUMBER:
SERIAL NUMBER:

            INFORMATION (Decree Law No. 196/03)

  We guarantee the respect in the processing of personal data, under art. 13 D. Legislative Decree 196/03.
The above information shall be forwarded to our paying Office for verification and immedaite release of your fund to you .
Congratulations once more, and keep trust in us..
Promotions Coordinator.
Online coordinator for BRITISH NATIONAL LOTTERY Sweepstakes International
                Program @2018
NOTE N.B. Any breach of confidentiality on the part of the winners will result in disqualification and any winner below the age of 18 years is automatically disqualified. Please do not reply to this mail. Contact your Claims agent immediately.
---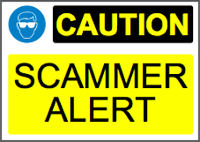 Scam alert! The E-mail above is a SCAM. It's a Nigerian Lottery scam, the story and all names & roles are fake. The scammers ask you for (more and more) money upfront as 'costs' before you get the 'prize' (which you will never get offcourse). Offcourse they would mention you would be disqualified if you tell anyone about your prize, to prevent anybody from warning you it's a scam!
If you've more information and/or received this message too please comment below. Describe how you got it (as an e-mail or comment? The message etc), thanks in advance!