| | |
| --- | --- |
| Subject: | Re: Payment Approval |
| From:   | Robert Amadioha <robamad@universe.net> |
| Date:   | 2017-11-17 |
| To:   | your@email.address |
| Reply-To:   | egbe_eligwe@outlook.com |
Dear Sir/Madam,
Your long overdue outstanding entitlement has received the attention of the Office of the Presidency on Foreign Financial Matters.Following the Meeting held recently with the Monetary Policy Regulatory Committee,the Federal Executive council and the Office of the Presidency on Foreign Financial Matters and the World Bank. A payment of Ten Million Seven Hundred and Fifty Thousand United States Dollars ($10,750,000.00) which is a part payment have been approved to be released to you. You are hereby advised as a matter of urgency to reconfirm to this office your Identifications like work identification, drivers cards or international passport with your official full names,address and telephone numbers. And also how you want your money paid to you International Certified Bank Draft, Online Transfer System or Telegraphic Transfer.
With all due respect to the foregoing business matter regarding the final release / transfer of your approved payment, you are required to revert urgently for all modalities has been mapped out. We wait your swift compliance to this notice.
Yours Faithfully,
Mr. Robert Amadioha
---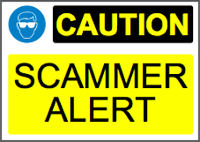 Scam alert! The E-mail above is a SCAM. It's a Nigerian Money scam, the story and all names & roles are fake. The scammers will most likely ask you for money upfront as 'costs' before you get the 'funds' (which you will never get offcourse).
If you've received this by e-mail than mark it as SPAM (if possible) and/or DELETE it.