| | |
| --- | --- |
| Subject: | Confidential Message About Your Fund |
| From:   | Mrs. Anastasia M. Daniel- Nwaobia <kawakubo@e-wisdom.co.jp> |
| Date:   | 2017-11-29 |
| To:   | |
| Reply-To:   | ramosmullery@hotmail.com |
Notice For you alone…
I am writing to inform you on the situation of things concerning your overdue payment that has stayed here for so long. I am here to make sure you get back this awaited payment into your account. I overhead the new governor collaborating with other commercial bank officials to divert some overdue funds that has stayed here for a lengthy account period into their private swiss account. And I believe yours is inclusive.
If I can not handle this to the best of my knowledge. I would not have contacted you. I am aware you have spent a lot of money to secure back this fund into your account but they kept requesting for more funds from you thereby depriving you the capacity to get along with them. At this moment, I want you to work with me and make our communications confidential. It will benefit you more if you suspend any form of communication with anyone at the moment until I get back this funds into your account.. I have assisted a certain man from North Carolina USA and it worked out..All you need to do is follow my advise and allow me handle the rest from here..Get back to me immediately to enable me handle your file of payment in your best interest.
Sincerely,
Mrs. Anastasia M. Daniel- Nwaobia,
Perm. Sec. Fed. Min of Finance.
---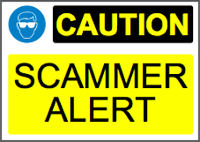 Scam alert! The E-mail above is a SCAM. It's a Nigerian scam, the story and all names & roles are fake. The scammers will most likely ask you for money upfront as 'costs' before you get any 'funds' (which you will never get offcourse).
If you've received this by e-mail than mark it as SPAM (if possible) and/or DELETE it.