| | |
| --- | --- |
| Subject: | re |
| From:   | Georgina Guadalupe Morales Ibarra <ggmorales@veracruz.gob.mx> |
| Date:   | 2017-02-19 |
| To:   | |
| Reply-To:   | |
We provide Quality personal and business loan at a fixed interest rate of 3 percent per annul(YEARLY INSTALLMENTS), We also funds projects and also multiple purpose loan request. Kindly email us via Email: alwatanillcuae@gmail.com
PLEASE SEND ALL RESPONSE ONLY TO : alwatanillcuae@gmail.com


"La información contenida en este mensaje no se considera compromiso o acuerdo oficial hasta que se confirme por escrito con la firma autógrafa del servidor público facultado, por lo que las opiniones personales expresadas en el mismo no son una posición oficial de la Dependencia o Entidad Emisora. Este mensaje es confidencial, dirigido para uso exclusivo del destinatario, quedando prohibida su distribución y/o difusión en cualquier modalidad sin la previa autorización del servidor público que lo emite. Si usted no es el destinatario de este mensaje, debería borrarlo inmediatamente". …………………………………………………………………………………………………………………………… Con fundamento en el artículo 13 fracción III de los Lineamientos para el uso del Correo Electrónico Institucional de la Administración Pública del Estado de Veracruz de Ignacio de la Llave.
---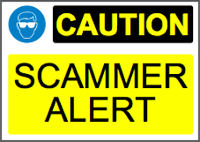 Scam alert! The E-mail above is a SCAM. It's a Nigerian (loan) scam, the story and all names & roles are fake. The scammers will most likely ask you for money upfront as 'costs' before you get your 'loan' (which you will never get offcourse).
If you've received this by e-mail than mark it as SPAM (if possible) and/or DELETE it.