| | |
| --- | --- |
| Subject: | Attention |
| From:   | Interpol Worldwide Case Settlement Africa <datie@jafte.com> |
| Date:   | 2017-11-26 |
| To:   | |
| Reply-To:   | m.sptso2icpo@yahoo.com |
This is Special Agent Michael Foster of the Interpol. How are you doing today and hope this memo meets you in good state. I have a good news for you regarding your lost funds with the African government. Me and my team have been down here in Nigeria West Africa since 3 months conducting investigations on seized funds belonging to Foreign Individuals, Companies, etc..
This is to officially notify you that your seized funds in total $15.5 million USD has been retrieved through our opened case file ICPO0292. Now you must quickly process your funds with the presence of our Agents here in Africa and using our help so to make sure nothing else goes wrong. Please acknowledge the receipt of this memo and provide with your information's such as requested below for next step immediately. Note, you will be paid through Interpol Worldwide Case Settlement Bank (Africa).
Please provide the below.
Your names.
Present home address.
Mobile Number and Other phone numbers.
Occupation and Office.
Government Valid Issued ID copy.
Special Agent in Charge.
Michael Foster.
Interpol Worldwide Case Settlement Bank (Africa).
iwcsb-africa.int
---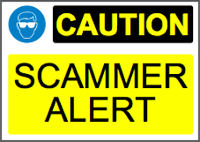 Scam alert! The E-mail above is a SCAM. It's a Nigerian scam, the story and all names & roles are fake. The scammers will most likely ask you for money upfront as 'costs' before you get the 'funds' (which you will never get offcourse).
If you've received this by e-mail than mark it as SPAM (if possible) and/or DELETE it.