| | |
| --- | --- |
| Subject: | URGENT SUPPLY ENQUIRY"' |
| From:   | Pabu Ibrahim <jitti@thaikorasia.com> |
| Date:   | 2017-10-08 |
| To:   | jitti@thaikorasia.com |
| Reply-To:   | jitti@thaikorasia.com |
Sir,
I would like to discuss the possibility of your company, partaking in an urgent government contract supply to Iraq. We at the contract review committee, are in the process of selecting firms like yours to participate in the development of a major project.This project entails supplying various items for the Humanitarian Aid & Reconstruction Project scheduled for the Province of Baghdad.
We are determined to purchase your products in large quantities, for use in all over our 18 governorates (provinces) as the task of re-building Iraq covers every single sector and facet of our society. We'll submit your products information to the contract review committee office of Iraq and the center for economic development. They will examine the propriety and necessitate of your product and approve for bulk supply contracting relationship.
I am currently on the board of the contracting command and center for economic development, With my connections in the corridors of power, we are quite confident of securing approval. Also of note is the issue of different financial regulations between my country Iraq and your country.As such you will be paid 100% through the Iraqi ministry of Finance before you commence supplies. When you've received payment, we would be expecting a monthly supply; a the sum budgeted for product may be quite enormous as to outstrip your capacity and capability to supply. A consideration also is that your quotation must be CIF Port of UmmQasr (or the Jordanian Port of Aqaba).
I will reveal more procedural information to you upon your re-confirmation. You can reach on the above email:
Thank you.
Tamimi Hanssan
---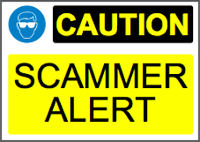 Scam alert! The E-mail above is a SCAM. It's a Nigerian Money scam, the story and all names & roles are fake. The Iraqi government has nothing to do with this scam. The scammers will most likely ask you for money upfront as 'costs' before you get 'your contract' (which you will never get offcourse).
If you've received this by e-mail than mark it as SPAM (if possible) and/or DELETE it.