| | |
| --- | --- |
| Subject: | BENEFICIARY FUND |
| From:   | Mr. Kennedy Uzoka <test@uba.net> |
| Date:   | 2017-09-11 |
| To:   | Recipients <test@uba.net> |
FIRST NATIONAL BANK OF SOUTH AFRICA
PHYSICAL OFFICE ADDRESS:-
82 ADDERLEY STREET, CAPE TOWN, 8001
PO BOX 674, CAPE TOWN, 8000
PHONE: +27 738 740 584
FAX: +27 21 446 3421
Greetings,
I am Richard Nkosi, director cash processing unit, FIRST NATIONAL BANK OF SOUTH AFRICA [FNB] the only bank appointed by the IMF/A.U. Members lead by President Robert Mugabe.
Because of the frauds going on in Africa countries where some innocent beneficiaries were asked to pay in advance before receiving their money owed to them.
The above Africa union held meeting in SOUTH AFRICA and resolve to pay all beneficiaries in cash through means of diplomatic courier service. We receive your files from international monetary fund (I.M.F.) as one of the beneficiaries.Take note; three thousand united state dollars (USD$3,000) have been mapped out for all expenses in taxes and other documents that matters
Therefore, I want you to bear it in mind that your total fund will be no more One million five hundred thousand united state dollars ($1.500,000.00) but One million four hundred and ninety seven thousand united state dollars ($1.497,000.00).Therefore, do forward your full name/home address and direct cell phone number to this E-Mail: ricfnb@gmail.com or officerrickfnb@yahoo.com for more information
Regards,
Richard Nkosi
Director cash processing unit
First National Bank. (FNB).
E-Mail: ricfnb@gmail.com
officerrickfnb@yahoo.com
---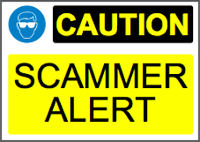 Scam alert! The E-mail above is a SCAM. It's a Nigerian scam, the story and all names & roles are fake. They even warn you about these scams.. But also these scammers will most likely ask you for money upfront as 'costs' before you get the 'funds' (which you will never get offcourse). Because that is what they do! Be warned!
If you've received this by e-mail than mark it as SPAM (if possible) and/or DELETE it.