| | |
| --- | --- |
| Subject:   | Re: Be my partner (Nigeria Wife President) |
| From:   | "Hajia Turai Yar Adua" <info@asorock.com> |
| Date:   | Thu, March 25, 2010 |
| To:   | your@email.address |
Hello,
My name is Hajia Turai Yar'Adua, the fist wife of the president Federal Republic of Nigeria Umaru Yar'Adua.
I want to use this opportunity to make a business with you, My influence increased because of my husband's bouts of illness. He was in an out of hospital even before he was rushed to Saudi Arabia last November. He has not been seen in public since.
I was among the staunchest opponents of handing executive powers to Vice President Goodluck Jonathan when my husband Yar'Adua was hospitalized, leaving government decision making in limbo.
I control over access to Yar'Adua, who has not even seen the vice-president since his return, puts me in a powerful position as one of the only people to know the true state of his health and what his chances of recovery are.
Furthermore, I am afraid that my husband will not make it due to the illness. I want to make use of this veto power to save some funds into Foreign accounts as my husband did not has that opportunity.
Please bear it in mind that the opposition party being the vice president cabinet keep watch on me in which i will not in any way have access to communicate freely with you. I decided to contact you so that you will help me to save the sum of 4million United States dollars that was already deposited in a bank and you will get 10% of the fund thereafter.
If you are eager to help, kindly forward your full name and mobile telephone number to my personal attorney for more directives. His contact is as follows:
Name: Barrister Musa Ali
Telephone number: +234-8139461605
Email: barristermusa@emailclick.com
Regards
Hajia Turai Yar'Adua
Wife of the president
Federal Republic of Nigeria
---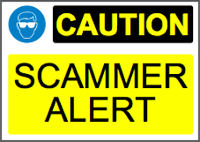 Scam alert! The E-mail above is a SCAM. It's a Nigerian scam, the story and all names & roles are fake. The scammers will ask you for money as 'costs' before you get the 'commission' (which you will never get offcourse).
If you've received this by e-mail than mark it as SPAM (if possible) and/or DELETE it.