| | |
| --- | --- |
| Subject: | Good day |
| From:   | Krause Good <admin@victotp.cf> |
| Date:   | 2018-03-14 |
| To:   | |
| Reply-To:   | krausegood@yahoo.com |
Greetings,
I know you will be surprised to read my email. Apart from being
surprised, you may be skeptical to reply me based on what is happening
on the internet, one has to be very careful as a lot of scammers are
out there to defraud innocent citizens and this has made it very
difficult for people to believe anything that comes through the
internet. My name is Krause Good. I am a member of the US ARMY Team
deployed to Iraq because of the current ISIS problems. I and my team
mates discovered trunk boxes containing American dollars. Am looking
for a trust worthy individual who will assist me to receive the funds
in his country before l will come over and join the person.
As soon as i receive your response, i will send more details to you.
Best Regards
Krause Good
---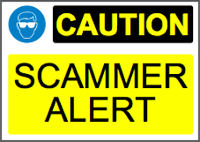 Scam alert! The E-mail above is a SCAM. It's a Nigerian Money scam, the story and all names & roles are fake. Nobody from the real US Army have anything to do with this. Too funny scammers warn you about other scammers… Anyway, the scammers will ask you for money upfront as 'costs' before you get the 'money' (which you will never get offcourse).
If you've more information and/or received this message too please comment below. Describe how you got it (as an e-mail or comment? The message etc), thanks in advance!