| | |
| --- | --- |
| Subject: | UNITED NATION AND EUROPEAN UNION OFFICIAL WINNING PAYMENT VALUED $8,300,000M |
| From:   | John Mill <eikoh@crocus.ocn.ne.jp> |
| Date:   | 2018-01-17 |
| To:   | |
| Reply-To:   | realphrep2@gmail.com |
THE UNITED NATION ORGANISATION
LONDON UNITED KINGDOM
UNITED NATION PAYMENT APPROVAL
OFFICE Special Duties/Logistics Department
FOREIGN CONTRACT/WINNING PAYMENT BUREAU
Our Ref: GBT /USA/STB Your Ref 25321/imf/us/09/10
UNITED NATION AND EUROPEAN UNION OFFICIAL WINNING PAYMENT VALUED $8,300,000M
UNITED NATION ORGANIZATION AND EUROPEAN UNION ORGANIZATION do hereby give this irrevocable approval order with
Release Code: GNC/3480/02/00 in your favor for your contract entitlement/award winning payment with the UNITED
NATION to your nominated bank account. Now your new Payment,United nation Approval No;UN5685P,White House Approved
No:WH44CV, Reference o.-35460021, Allocation No: 674632 Password No: 339331 , Pin Code No: 55674 and your
Certificate of Merit Payment No : 103 , Released Code No: 0763; Immediate Citibank Telex confirmation No: -1114433 ;
Secret Code No:XXTN013, Having received these vital payment number , therefore You are qualified now to received and
confirm Your payment with the United Nation immediately within the next 72hrs.
As a matter of fact, you are required to Deal and Communicate only with MS Barbara Dean, NEW DIRECTOR INTERNATIONAL
REMMITTANCE CITIBANK OF NEW YORK, with the help and monitory team from the CITIBANK OF FEDERAL RESERVE ACCOUNT
OFFICE IN US which is our official remitting bank, Committee On Foreign Payment Matters in United Nation, has look
up to make sure you receive your fund valued $8.3m. So contact: Barbara Dean. on
Email: realphrep2@gmail.com for immediate release of your contract/inheritance/Award Winning claim Be
informed that you are not allowed to correspond with any person or office anymore, You are required to send her the
bellow information for your transfer.
1) YOUR FULL NAME:
2) ADDRESS:
CITY, STATE:
3) PHONE:
4) COMPANY NAME(IF ANY) POSITION AND ADDRESS
5) BANK DETAILS:
BANK NAMES:
ACCOUNT NO:
ROUTING NO:
SWIFT CODE :
BANK ADDRESS:
6) PROFESSION AND MARITAL STATUS,
7) COPY OF YOUR INT'L PASSPORT/DRIVERS LICENSE
NOTE: YOUR PERSONAL CONTACT/COMMUNICATIONCODE WITH CITIBANK IS(022),YOU ARE ARE ADVICE TO SEND YOU FULL BANKING
INFORMATION TO THE NEW CITIBANK OF NEW YORK INTERNATIONAL REMMITTANCE DIRECTOR HEADED BY Barbara Dean AND MAKE
SURE YOU ADHIRE TO HER INSTRUCTIONS,
WITH YOUR NEW PAYMENT CODE FOR RELEASE OF YOUR PAYMENT AND SEND HER ALL YOUR BANKING INFORMATION NOW. CONTACT
CODE(002)
OFFICER: Barbara Dean
POSITION: NEW DIRECTOR,INTL,REMMITTANCE CITIBANK NEW YORK
EMAIL: realphrep2@gmail.com
Barbara Dean
(CHAIRMAN COMMITTE ON FOREIGN CONTRACT/AWARD WINING PAYMENT UNITED NATION AND USA GOVERNMENT).
realphrep2@gmail.com
As we celebrate 200 years of history at Citi, we look towards the future.
Citigroup.com is the global source of information about and access to financial services provided by the Citigroup companies.
---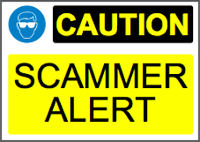 Scam alert! The E-mail above is a SCAM. It's a Nigerian scam, the story and all names & roles are fake. The UN, EU and Citigroup NY have nothing to do with this. The scammers will most likely ask you for money upfront as 'costs' before you get the 'funds' (which you will never get offcourse).
If you've received this by e-mail than mark it as SPAM (if possible) and/or DELETE it.