| | |
| --- | --- |
| Subject: | Attention – Réf/ LCL Bank France |
| From:   | LCL Bank France New York Central USA <info@lee.org> |
| Date:   | 2018-03-18 |
| To:   | your@email.address |
| Reply-To:   | ny.usa@lclb-fr.com |
LCL
LE CREDIT LYONNAIS
AU 19 Boulevard Perret
France.

Greetings to you from LCL Bank Levallois-Perret, France and New York Central USA. I'm André Benjamin Head of Operations and Management. I use translator and hope you can understand my writings.

We have $10.5 million US dollars funds belonging to you according to records that originate from Nigeria West Africa that was being diverted through this Bank, but we managed to discover.

Some undisclosed Nigerian government officials tried to divert your funds $10.5 million through this Bank and after our investigations and proper checks, we confirmed that this funds was originally approved to you through the Presidency office in Nigeria. Please be informed that it is against France law to have this abrupt and un-cleared funds with us for more than 48hrs without the Paper from the Presidency office in Nigeria.
Therefore, please kindly answer these three questions.
(1.) Would you need for us to get this Paper from the Presidency
office in Nigeria for you?
(2.) You want to get paid directly by LCL Bank Levallois France?
(3.) Or you would prefer we returned the money to Nigeria and you
can take it up from there?
Please understand that if you chose for us to return this funds to Nigeria, we shall do so without further notice to you. On the other hand, if you chose for us to send your total funds across to you, then you must immediately send $850 US dollars to the office in Nigeria for the Presidency Paper and we shall be needing some verifiable documentation from you such as any government issued Valid ID.
Please be kind enough to respond urgently to this email with your
acknowledgement.
————
André Benjamin
Head Of Opérations
LCL (LE CREDIT LYONNAIS)
AU 19 Boulevard
Perret France and
New York Central,
USA 10010
---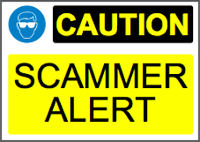 Scam alert! The E-mail above is a SCAM. It's a Nigerian Money scam, the story and all names & roles are fake. The scammers ask you for (more and more) money upfront as 'costs' before you get the 'funds' (which you will never get offcourse).
If you've more information and/or received this message too please comment below. Describe how you got it (as an e-mail or comment? The message etc), thanks in advance!