| | |
| --- | --- |
| Subject: | RE: APPROVED OUTSTANDING CONTRACT/INHERITANCE PAYMENT- $20 M USD |
| From:   | Kofi Gana <kofigana283@yahoo.com> |
| Date:   | 2018-05-05 |
| To:   | |
Attn: THE BENEFICIARY,
Dear Sir/Madam,
RE: APPROVED OUTSTANDING CONTRACT/INHERITANCE PAYMENT- $20 M USD
Due to the series of serious complaints and allegations from innocent creditors/contractors of the fraudulent and incessant extortions meted to them all over West African states but especially Nigeria, the governments of all ECOWAS states met and through the consortium of West African Central Bank Governors formed the WEST AFRICAN MONETARY INSTITUTE (WAMI) with sole objective of making contacts, investigating and upon certification, transferring funds to all owed creditors whose funds have long been approved but unpaid.
Among the 20creditors we received in this 2nd Quarterly payment schedule, your name was included and hence our reason for contacting you.
Sir/Madam, we may not fully know what went wrong and why this long period of delay as can see from your record and why Nigeria decided to withhold the transfer all these while but the only thing we can guarantee you is that whatever you may have suffered trying to get this funds is now a thing of the past. We don't know the agencies you previously dealt with but WAMI as a body representing all ECOWAS states made up of officials from all ECOWAS countries is ready to fully transfer your funds without further delay. Aside that and contrary to the erroneous believes the corrupt officials have planted before contractors and creditors, all bank changes as it is the norm all over the world is deducted from your contract sum before transfers are made and this we guarantee you.
Do please confirm the above information and forward all details relating to the payment including your full bank account details where you want your funds transferred.
We apologize for all the pain and the inconveniences the delay in transfer may have caused you all these while.
We do urgently look forward to hearing from you.And also do please reply to this e-mail address:kofigana456@gmail.com
Regards,
Mr. Kofi Gana.
COORDINATOR.
WEST AFRICAN MONETARY INSTITUTE/BoA
Direct Telephone: +226 55511157
---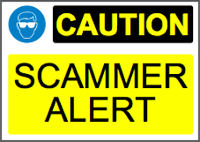 Scam alert! The E-mail above is a SCAM. It's a Nigerian Money scam, the story and all names & roles are fake. The scammers will ask you for money upfront as 'costs' before you get the 'funds' (which you will never get offcourse).
If you've received this by e-mail than mark it as SPAM (if possible) and/or DELETE it.