| | |
| --- | --- |
| Subject:   | I ASK FOR YOUR SUPPORT( MRS JOY ) |
| From:   | "MS JOY SMITH" <ctb@123.co.uk> |
| Date:   | Tue, March 9, 2010 |
ATTENTION: SIR/MADAM.
I AM MRS JOY, A WIDOW, AND AN EX-WIFE TO LATE MR. MIKE SMITH, WHO DIED IN A PLANE CRASH, ON THE 6TH OF 1997, BEFORE HIS DEATH, WE HAD A FAMILY PROBLEM THAT ENDED UP IN DIVORCE, AND BEFORE OUR DIVORCE, I HAD NO CHILD FOR HIM, FOR THIS SIMPLY REASON HE NEVER BORDERED TO KNOW HOW I FEED, OR HOW I AM LIVING. SO HE GOT MARRIED TO ANOTHER WOMAN, WHO HAD THREE KIDS FOR HIM. HE WAS THE DIRECTOR OF A STEEL COMPANY, NAMED MDSMITH STEEL COMPANY. IN 1997, HE HAD A PLANE CRASH WITH HIS SECOND WIFE AND THREE CHILDREN.
I AM WRITING THIS LETTER TO ASK FOR YOUR SUPPORT AND COOPERATION TO CARRY OUT THIS BUSINESS OPPORTUNITY. MY LATE HUSBAND DEPOSITED SUM OF $15,000.000.00 (FIFTEEN MILLION UNITED STATES DOLLARS ONLY) IN HIS ACCOUNT WITH UNION BANK, SINCE HE DIED, I NEVER KNEW ABOUT THIS HIS FUND THAT HE DEPOSITED WITH THE UNION BANK, UNTIL HIS PERSONAL ATTORNEY CONTACTED ME AND TOLD ME ABOUT THIS DISCOVERY, I WAS SO SHOCKED, AND AT THE SAME TIME I THANK GOD BECAUSE SINCE MY HUSBAND DIED I NEVER RECEIVED ANY HELP FROM ANYBODY, I WAS ABANDONED BECAUSE OF THE FINANCIAL CRISIS WE HAVE HERE IN THIS COUNTRY. THE COUNTRY LEADERS ARE SO WICKED AND HEARTLESS, THEY DO NOT CARE FOR THE WIDOWS. I AM SO MUCH IN PAIN AND AGONY, I HAVE PRAYED AND CRIED TO GOD EVERYDAY TO HEAR MY HUMBLE CRY OF A WIDOW, BUT ATLAST HE ANSWERED.
NOW THE ATTORNEY MADE ME UNDERSTOOD THAT THE BANK IS LOOKING FOR THE NEXT-OF KIN TO PUT CLAIMS FOR HIS MONEY AS THE HEIR, BECAUSE THEY CANNOT RELEASE THE FUND FROM HIS ACCOUNT UNLESS SOMEONE WHO IS THE NEXT OF KIN APPLIES FOR CLAIM AS THE NEXT OF-KIN TO THE MY LATE HUSBAND AS INDICATED IN THE BANKING GUIDELINES.
UNFORTUNATELY, THE LAWYER KNOWS THAT I AM NOT CAPABLE OF HANDLING THIS FUND, KNOWING MY CONDITION AND POSITION, AND THIS IS AN OPPORTUNITY FOR ME TO ESCAPE FROM POVERTY AND MOVE AWAY FROM THIS WICKED COUNTRY, WHAT I AM LOOKING FOR IS A FOREIGNER WHO WILL HELP ME RECEIVE THIS FUND INTO HIS BANK ACCOUNT, SOMEONE THAT IS CAPABLE AND TRUST WORTHY, WHO WILL NOT RUN AWAY WITH THIS MONEY.
WE NEED TO ACT FAST, OTHERWISE THE FUND WILL BE RETURNED TO THE BANKS TREASURY AS UNCLAIMED FUND.I HAVE AGREED THAT OUR RATIO OF SHARING WILL BE AS STATED THUS: 35% FOR YOU AS FOREIGN PARTNER,55% FOR ME AND 10% FOR THE SETTLEMENT OF ALL LOCAL AND FOREIGN EXPENSES INCURRED BY YOU DURING THE COURSE OF THIS BUSINESS.
UPON THE SUCESSFUL COMPLETION OF THIS TRANSFER, I WILL COME TO YOUR COUNTRY FOR MY SHARE, AND I WILL INVEST PART OF MY SHARE THROUGH YOU IN YOUR COUNTRY, I REQUIRE YOU TO IMMEDIATELY INDICATE YOUR INTEREST BY A RETURN E- MAIL AND ENCLOSE YOUR PRIVATE CONTACT TELEPHONE NUMBER, FAX NUMBER FULL NAME AND ADDRESS AND YOUR DESIGNATED BANK COORDINATES TO ENABLE THE ATTORNEY TO FILE LETTER OF CLAIM.
TO THE APPROPRIATE DEPARTMENTS FOR NECESSARY APPROVALS BEFORE THE TRANSFER CAN BE MADE. (ATTORNEY) IS IN POSITION TO MAKE THIS TRANSACTION SUCCESSFUL.
NOTE ALSO, THIS TRANSACTION MUST BE KEPT STRICTLY CONFIDENTIAL BECAUSE OF ITS NATURE.I LOOK FORWARD TO RECEIVING YOUR PROMPT RESPONSE.REMAIN BLESSED.
MRS JOY MIKE
---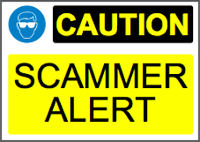 Scam alert! The E-mail above is a SCAM. It's a Nigerian scam, the story and all names & roles are fake. The scammers will ask you for money as 'costs' before you get your 'commission' (which you will never get offcourse).
If you've received this by e-mail than mark it as SPAM (if possible) and/or DELETE it.