We've seen several BMW lottery scams before but this time the've (machine) translated one into Dutch:
| | |
| --- | --- |
| Subject: | AFDELING BMW LOTERIJ |
| From:   | Ms.Englert <sql@iran-tejarat.com> |
| Date:   | 2018-03-31 |
| To:   | your@email.address |
| Reply-To:   | drernestebi416@gmail.com |
AFDELING BMW LOTERIJ
5070 WILSHIRE BLVD
LOS ANGELES. CA 90036
DE VERENIGDE STATEN VAN AMERIKA.
OPMERKING: als u dit bericht in uw SPAM / JUNK-map hebt ontvangen, is dat
vanwege de beperkingen geïmplementeerd door uw internetdienst
Aanbieder, wij (BMW) verzoeken u dringend om het echt te behandelen.

Beste winnaar (your@email.address),
Dit is om te informeren dat je bent geselecteerd voor een prijs van a
gloednieuw 2018 Model BMW 7 Serie Auto en een Check of
$ 1.500.000,00 USD van de internationale stembiljetten gehouden
het 2e deel in de VERENIGDE STAAT VAN AMERIKA.
Beschrijving van het prijzengeld;
Model: 760Li Kleur (buitenkant): Metallic zilver Kilometerstand: 5
Transmissie: automatisch 6 snelheden
Opties: Koud weerpakket, premium pakket, neerklapbare achterbank
w / ski-tas, ben fm stereo met enkele in-dash cd-speler.
Het selectieproces werd uitgevoerd door middel van willekeurige selectie in onze
geautomatiseerd e-mailselectiesysteem (ESS) uit een database van meer dan
250.000 e-mailadressen afkomstig uit alle continenten van de wereld
welke jij was geselecteerd.
De BMW Lottery is goedgekeurd door de British Gaming Board en ook
onder licentie van de International Association of Gaming Regulators
(IAGR). Om met de verwerking van je prijs te beginnen, moet je contact opnemen met onze
fiduciaire claimsafdeling voor meer informatie over procedures
om je prijs te claimen.

Fiduciary Agent: Mr. Steve Mark
E-mail adres: stevemark58725@gmail.com

Neem contact met hem op door hem uw geheime pincode Nummer te geven
BMW: 255175HGDY03 / 23.Als onderwerp van uw e-mail voor een snel antwoord

U wordt ook geadviseerd om hem de onder vermelde informatie te verstrekken
zo spoedig mogelijk:
1. Volledige naam:
2. Woonadres:
3. Nationaliteit:
4. Leeftijd:
5. Sex
6. Beroep:
7. Directe telefoon:
8. Huidige land:
9. e-mailadres:
10. Pincode BMW:
11. Een kopie van uw rijbewijs:
Let op: u moet een e-mail sturen naar Mr. Steve Mark.
U moet hem de hierboven vermelde gegevens als geven
zo snel mogelijk zodat hij kan beginnen met de verwerking van uw prijs
winst.

Mevrouw Englert.
———————
DE PROMOTIES VAN DE DIRECTEUR
AFDELING BMW LOTERIJ
DE VERENIGDE STATEN VAN AMERIKA
---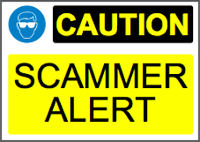 Scam alert! The E-mail above is a SCAM. It's a Nigerian Lottery scam, the story and all names & roles are fake. The Lottery is fake. These scammers will ask you for (more and more) money upfront as 'costs' before you get your 'prize' (which you will never get offcourse).
If you've received this by e-mail than mark it as SPAM (if possible) and/or DELETE it.