| | |
| --- | --- |
| Subject: | VERY CRUCIAL !!! |
| From:   | lytay seng <admin@yagcarsisi.com> |
| Date:   | 2018-03-28 |
| To:   | |
| Reply-To:   | lytays4_4@yahoo.com |
Dearest,
It is with trust that i contact you in this transaction. My name is Mr.Lytay Seng, a personal Accountant/Execultive board of Directors working with Foreign Trade Bank of Cambodia(FTB).I need your assistance to secure an inheritance fund that belong to a deceased client of mine who bear the same name with you. He left sum amount of money with our Bank for some years now and no next of kin has come forward all this years for claim.
I am in good faith and with trust waiting for your Urgent respond and maximum cooperation for more details.
Best Regards,
Mr.Seng
Board Directors
Foreign Trade Bank of Cambodia
Phnom Penh.
---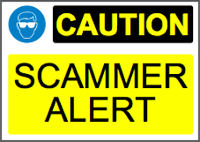 Scam alert! The E-mail above is a SCAM. It's a Nigerian Money scam, the story and all names & roles are fake. These scammers will ask you for (more and more) money upfront as 'costs' before you get the 'funds' (which you will never get offcourse).
If you've received this by e-mail than mark it as SPAM (if possible) and/or DELETE it.