| | |
| --- | --- |
| Subject: | Re: Payment Authorization. |
| From:   | Fidelis Farrah <farrah@ecologylab.net> |
| Date:   | 2017-09-14 |
| To:   | your@email.address |
| Reply-To:   | fidelisfarrah@orienguru.com |
WORLD BANK AUDITORS
AFRICA REGIONAL OFFICE
Plot Independence Ave,
Ridge, Accra, Ghana
Sir/Madam,
The World Bank auditors in Ghana have deliberated on your inheritance/contract payment with government of Ghana in collaboration with International Monetary Policy office of the Ghana Presidency and resolved that all fund approved in your name should be released to you without any delay through upon the immediate successful appraisal and authorization by the World Bank auditors and the Ghana Presidency
It is important that you note that payment will be made to you only through bank to bank wire transfer using a designated paying bank as will be appointed by the Ghana Presidency
You are hereby requested to reply this email with the following details.
1) Your receiving Bank name:
20 Bank address:
3) Bank swift code or routing number:
4) Bank account number:
5) Bank account name:
6) A scanned and attached copy of your personal identification which must be either an international passport or driver's license.
Be informed accordingly that an amount of US$5.5 million has be approved for payment to you because of shortage of foreign exchange available for the initial settlement of a long list of unpaid bills.
You are strictly warned to contact only the undersigned who is the Secretary of the World Banking auditing Board for Ghana. Upon successful appraisal, you file will be forwarded to the Ghana Presidency for approval and authorization of transfer.
Please send your reply to this email only: fidelisfarrah@orienguru.com
Mr.Fidelis Farrah.
(Secretary of the World Bank,
Ghana Auditing Board),
---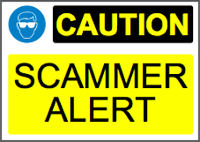 Scam alert! The E-mail above is a SCAM. It's a Nigerian scam, the story and all names & roles are fake. The scammers will most likely ask you for money upfront as 'costs' before you get the 'funds' (which you will never get offcourse).
If you've received this by e-mail than mark it as SPAM (if possible) and/or DELETE it.