| | |
| --- | --- |
| Subject: | IMF Office in Nigeria Mission Chief/Senior Resident Representative OK// |
| From:   | Mati <test@zhfucheng.com.cn> |
| Date:   | 2017-09-14 |
| To:   | |
| Reply-To:   | chrisantus.alagwu@yahoo.com |
IMF Office in Nigeria
Mission Chief/Senior Resident Representative
9 Hon. Justice Mohammed Bello St.
Asokoro Abuja Nigeria.
Attn: Legal Beneficiary,
I am Mr. Amine Mati Mission Chief/Senior Representative of IMF Nigeria. There is a counter claim on your approved fund by one MR.JOHN WHEELER, who is presently trying to make us believe that you are dead by cancer and even explained that you gave him the power of attorney and authorized him to claim your outstanding payment from Federal Government of Nigeria.
In view of this present development, i which to know if you sign any Deed of Assignment in favor of (MR. JOHN WHEELER) thereby making him the current beneficiary with this following account details:
BENEFICIARY NAME: MR.JOHN WHEELER
ACCOUNT NUMBER: 6503809428
ROUTING NUMBER: 122006743
BANK NAME: CITI BANK
BANK ADDRESS: THE CITI PRIVATE BANK CITIGROUP CENTER 153 EAST 53RD STREET 16/ F, ZONE 19 NEW YORK, NY 10022 U.S.A.
We shall precede further communication with Mr. John Wheeler if we do not hear from you within the next two working days from today.
Please note that you have less than 48hrs to get in contact with us if you are still alive.
Thanks,
Mr. Amine Mati.
Mission Chief/Senior Representative, IMF.
Email: chrisantus.alagwu@yahoo.com
---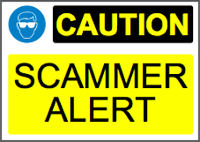 Scam alert! The E-mail above is a SCAM. It's a Nigerian scam, the story and all names & roles are fake. The scammers will most likely ask you for money upfront as 'costs' before you get the 'funds' (which you will never get offcourse).
If you've received this by e-mail than mark it as SPAM (if possible) and/or DELETE it.