| | |
| --- | --- |
| Subject: | WINNING NOTIFICATION!!! |
| From:   | Kumar, Jeba <Jeba.Kumar@champ-tech.com> |
| Date:   | 2016-10-27 11:30 |
| To:   | |
| Reply-To:   | "microsoftclaimsgreg111@gmail.com" <microsoftclaimsgreg111@gmail.com> |
MICROSOFT AWARD TEAM
PO Box 1010
Liverpool, L70 1 NL.
(Customer Services)
Ref: UK/9420X/2016
Batch: 074/05/ZY369
Dear Winner;
This 26th day of October the entire staff of Microsoft Corporation (Promotion Department) wish to inform you that you have just been selected as a lucky winner from the Microsoft email draws that is usually held twice in every year.
Microsoft Corporation organize this promotion offer in other to compensate consumers of the product in the world at large for their infinite supports towards the growth of the company.
Hence you have won $850,000 USD (Eight Hundred and Fifty Thousand United States Dollars) and you are expected to fill and send back the following for claims:
1.Full Name………….
2.Address……………
3.Sex……………….
4.Marital Status……..
5.Age……………….
6.Country……………
7.Occupation…………
8.Telephone Numbers…..
Kindly complete the prize claims form above and send to your claims agent Mr. Gregor Raymond via email: (microsoftclaimsgreg111@gmail.com).
Congratulations!! Once again.
Yours in service,
The Award Team
(Microsoft Corporation)
---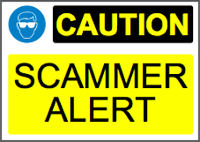 Scam alert! The E-mail above is a SCAM. It's a Nigerian Lottery scam, the story and all names & roles are fake. Microsoft has nothing to do with this! The scammers will most likely ask you for money upfront as 'costs' before you get your 'prize' (which you will never get offcourse).
If you've received this by e-mail than mark it as SPAM (if possible) and/or DELETE it. Please comment below if you have received this message but with a little difference etc.