| | |
| --- | --- |
| Subject: | Greetings,, |
| From:   | Mrs Louise Gill <violetlarrrge0@gmail.com> |
| Date:   | 2016-10-13 |
| To:   | |
| Reply-To:   | violetlarrrge01@gmail.com |
Dear beloved.
My name is Louise Gill your email has been short listed in a draw that was made today which your name and email was pick as the rightful owner of our mother $500,000,00 for charity work in your community.
Get back to me so more details will be forward to you regarding how your FUND INHERITANCE will get to your care as soon as possible.
Thank you and GOD bless
Mrs Louise Gill
—
This email has been checked for viruses by Avast antivirus software.
https://www.avast.com/antivirus
---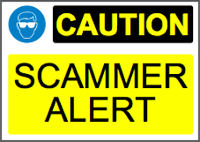 Scam alert! The E-mail above is a SCAM. It's a Nigerian scam, the story and all names & roles are fake. The scammers will ask you for money as 'costs' before you get the 'inheritance / funds' (which you will never get offcourse). The fact that this e-mail has a "checked for viruses" signature from Avast antivirus does not mean it isn't a scam! (This antivirus signature could also be faked, but this is irrelevant.)
If you've received this by e-mail than mark it as SPAM (if possible) and/or DELETE it.