| | |
| --- | --- |
| Subject: | Confirmation Letter |
| From:   | GOOD NEWS <info@lee.org> |
| Date:   | 2017-12-19 |
| To:   |   |
| Reply-To:   | facebookreport@fblottery.co.uk |
FACEBOOK LOTTERY PROMOTION !!! (Founder and CEO Mark Zuckerberg) European Region Office: 10B Widemarsh Street Hereford Square, London HP1 8HFD, England. We happily announce to you the draw of the Facebook Lottery Promotions for the year 2017, at our Lotto Draw Headquarters London, United Kingdom organized by Facebook on which your E-mail address has emerge as one of the newly introduced Digital Lottery Programme winner which involves the use of email addresses. Facebook Lottery is held every 9th, 19th, and 29th of every month. Your e-mail address won $5,000,000.00 in the 2nd category and in this category (5) E-mail address came out as winners and your E-mail is one of them. YOUR WINNING NOTIFICATION: Ticket number: 00545 188 564756, Prize #77801209/N, WINNING NUMBER: FB/575061725. Serial number 5368/02 Lucky numbers: 17 98 09 67 46 You have been approved to claim a total sum of $5,000,000.00 (Five Million United States Dollars). This is from a total cash prize of $25,000,000.00 (Twenty Five Million United States Dollars) shared amongst the (5) lucky winners in every category. Prize Claim Inquiries: Fill in this space below and send it to (C.S.I.H Department) immediately to facilitate your claims as our beneficiary: FULL NAME:,,,,,,,,,, HOME ADDRESS,,,,,,,,,, RESIDENTIAL,,,,,,,,,,,, NATIONALITY:,,,,,,,,,,,,,, OCCUPATION :,,,,,,,,, TELEPHONE :,,,,,,,,, RELIGION :,,,,,,,,,,, EMAIL :,,,,,,,,,,, AGE :,,,,,,,,,,,, SEX :,,,,,,,,,, Note: Any prize not claimed within this period (21 days) from now will be forfeited. For security reasons, we advice all winners to keep this information confidential from the public notice until your claims is processed and released to you. This is part of our security protocol to avoid double claiming and unwarranted taking advantage of this program by non-participant or unofficial personnel. If you have questions or wish to claim your prize money kindly contact Mr. David M. Wehner Chief Financial Officer At…., E-mails:facebookreport@fblottery.co.uk Mobile:+44-7011148163 Yours in service, Mr.Marc Andreessen Facebook Lottery Facilitator. Copyright ©2017facebook Lottery Promotions!
---
This scammer built a small website on fblottery.co.uk with the Wix website publish tool. It looks amateurish but better than usual. Also they did pay for this service to run it under their own domainname instead of a free domain.wix.com address. See screenshots below: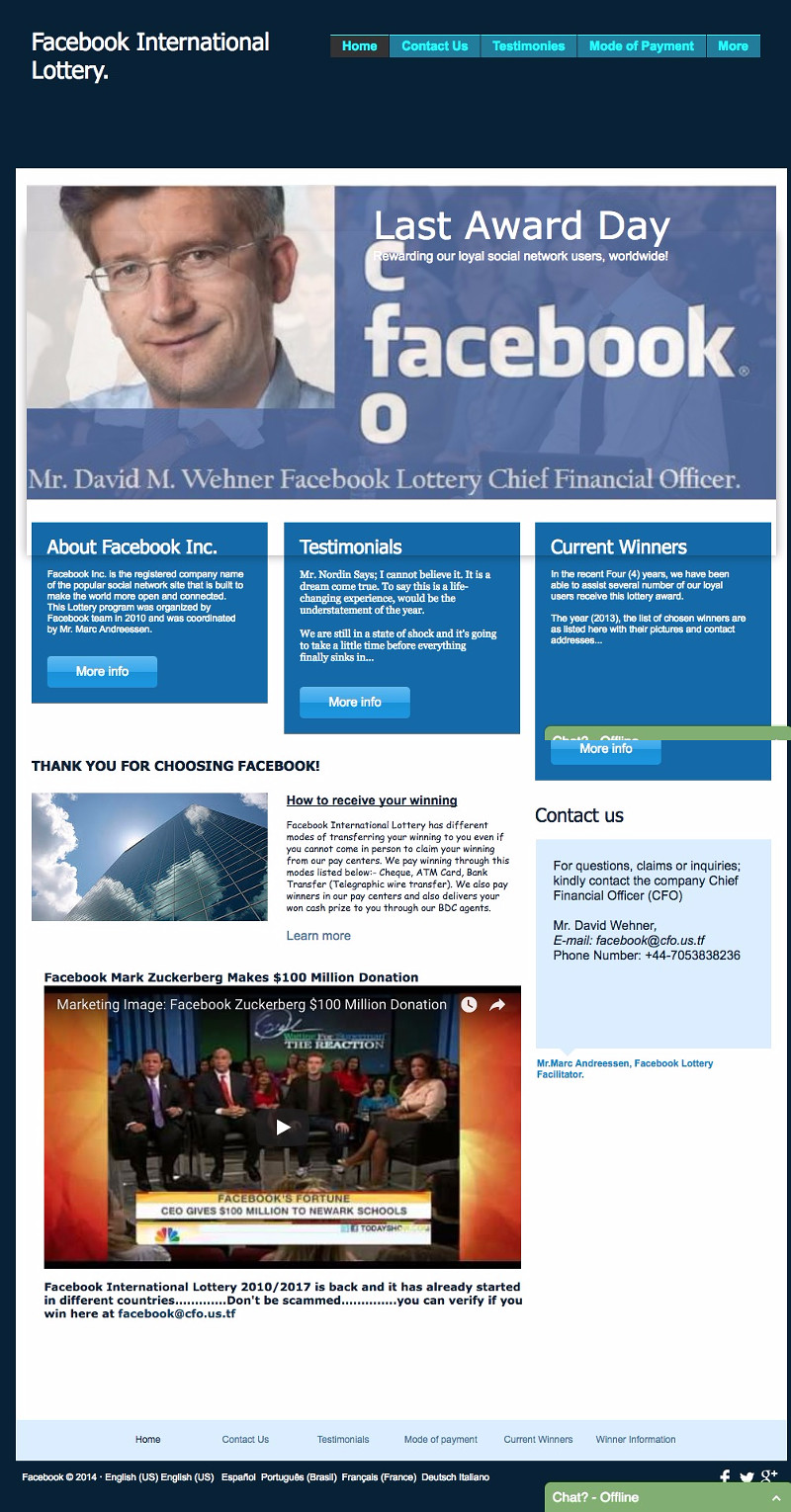 The Contact Us page shows a photo of Mark Zuckerberg, the founder of Facebook, and the so-called FB Lottery "coordinator" Marc Andreessen, who in reality is the co-founder of Netscape and an inverstor in Groupon and Facebook (etc). So highly unlikely to work at some FB lottery organisation!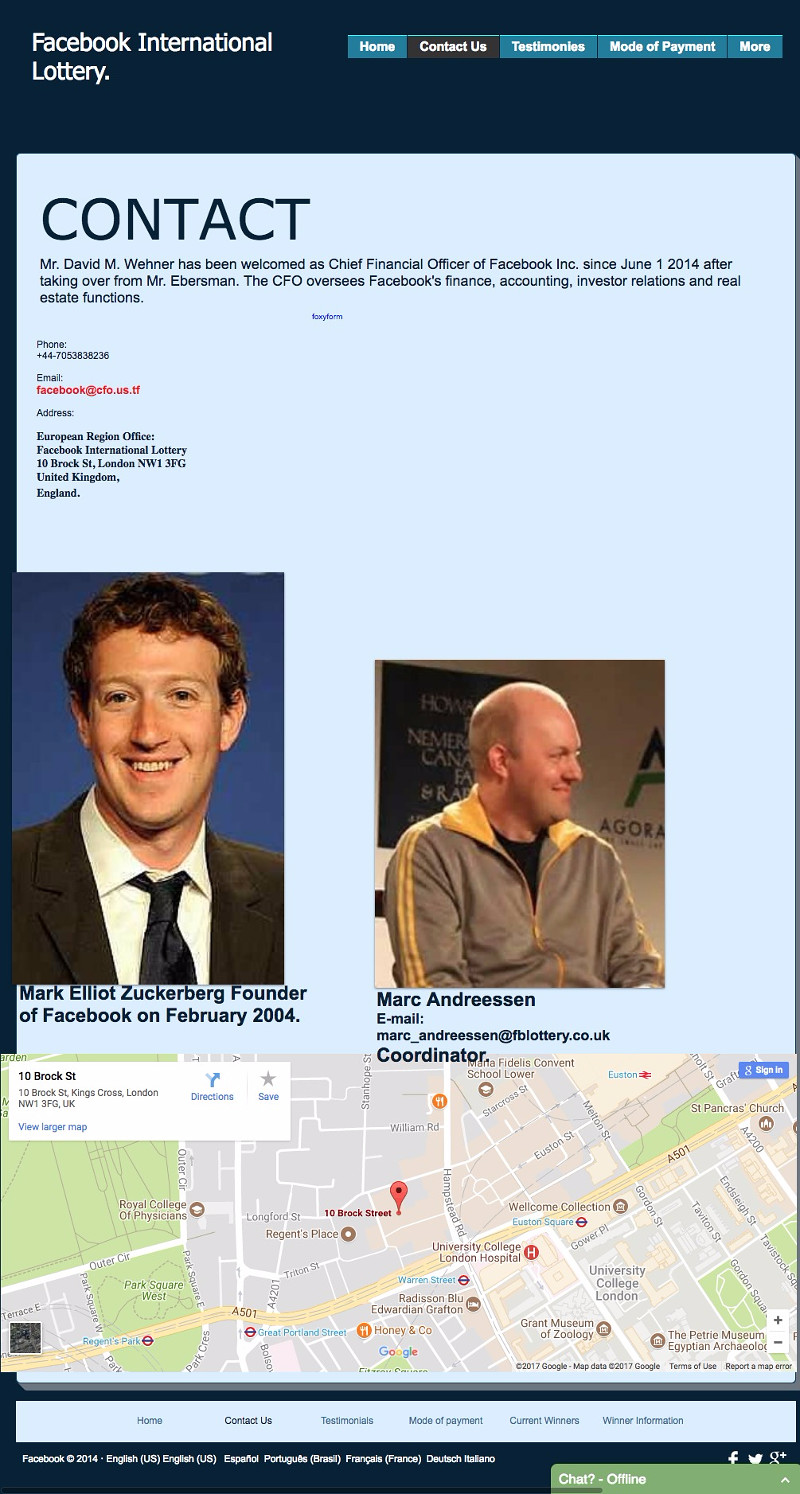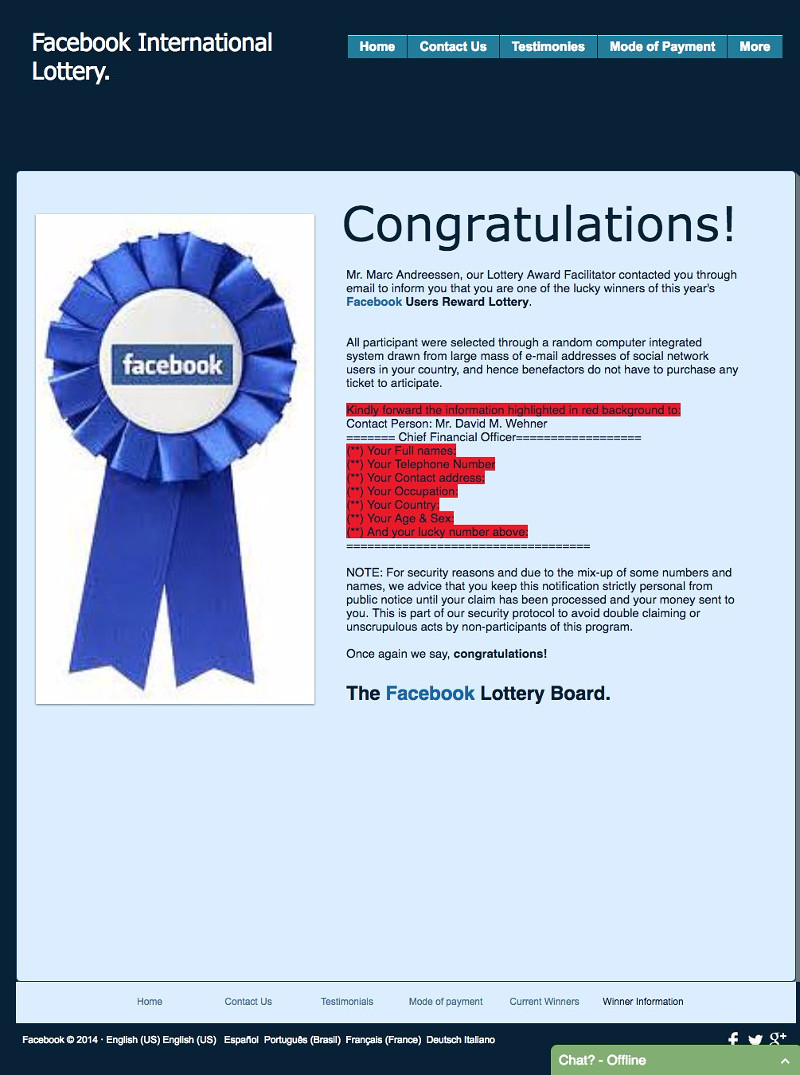 ---
Not surprisingly, the domain owner is from Nigeria:
Domain name:           fblottery.co.uk
Registrant:            chigozie ihebom
Registrant type:       Non-UK Individual
Registrant's address:  No 10 bus stop Nekede old road
                       Owerri
                       Imo
                       Nigeria
Data validation:       Nominet was able to match the registrant's name and address against a 3rd party data source on 28-Sep-2015
Registrar:             eNom LLC [Tag = ENOM] http://www.enom.com
Registered on:         24-Mar-2015
Expiry date:           24-Mar-2018
Last updated:          10-Nov-2017
Registration status:   Registered until expiry date.
Name servers:          ns3.mydnsfree.com
                       ns4.mydnsfree.com

Did he really enter a bus stop as an address? I wonder what Nominet used as "3rd party data source" to validate these details…
In the page contents there is a reference to a similar domain: fblotto.net
which has the same owner indeed:
Domain Name: fblotto.net
Registry Domain ID: 1852006245_DOMAIN_NET-VRSN
Updated Date: 2016-03-24T02:02:48Z
Creation Date: 2014-03-26T03:35:12Z
Registrar Registration Expiration Date: 2019-03-26T03:35:12Z
Registrar: NETWORK SOLUTIONS, LLC.
Registrar IANA ID: 2
Registry Registrant ID: 
Registrant Name: Chigozie Ihebom
Registrant Organization: 
Registrant Street: no 10 bus stop Nekede old road
Registrant City: Owerri
Registrant State/Province: imo
Registrant Postal Code: 8650
Registrant Country: NG
Registrant Phone: +234.7036857852
Registrant Email: jaiihebom@gmail.com
Name Server: ns13.wixdns.net
Name Server: ns12.wixdns.net
DNSSEC: Unsigned
Registrar Abuse Contact Email: abuse@web.com
Registrar Abuse Contact Phone: +1.8003337680

He also owns domains like: civillbank.com (which is listed for sale at this moment)
All seem like domains used for scamming activity! Be aware!
---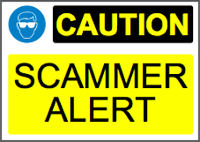 Scam alert! The E-mail above is a SCAM. It's a Nigerian Lottery scam, the story and all names & roles are fake. There is no Facebook Lottery, Facebook and all named persons have nothing to do with this. The scammers will most likely ask you for money upfront as 'costs' before you get the 'prize' (which you will never get offcourse).
If you've received this by e-mail than mark it as SPAM (if possible) and/or DELETE it.