| | |
| --- | --- |
| Subject:   | YOUR FUNDS EASTER PAYMENT COMPESATION |
| From:   | "Mr Saudiq Alman" <oxford@pmtonline.co.uk> |
| Date:   | Sun, April 11, 2010 |
| To:   | undisclosed-recipients:; |
Attachments: ATM.txt
RE:YOUR PAYMENT NOTIFICATION
DIRECTOR FRAUD VICTIMS/Stop Contacting Those People They Are Non Officials
RE=PAYMENT COMPENSATION OF /USD $10,000,000
REF/PAYMENT CODE: /UN/US/FGN/EU, /$10,000,000
From SMATWEST GUARANTEE TRUST BANK PLC ATM s
GUARANTEE TRUST BANK MANAGER
RE:YOUR PAYMENT NOTIFICATION
MR MORGAN BENZ
MATWEST BANK MANGER
ATTENTION: SIR/MADAM,
RE: UNITED NATIONS/NIGERIAN GOVERNMENT/AMERICAN GOVERNMENT/THE EUROPEAN UNION 2000/2009 FRAUD VICTIMS COMPENSATIONS PAYMENTS.
Records show that you are among one of the individuals and organizations who are yet to receive their overdue payment from overseas which includes those of Lottery/Gambling, Contract and Inheritance. Through our Fraud Monitory Unit we have also noticed that over the past you have been transacting with some imposters and fraudsters who have been impersonating the likes of Prof. Soludo of the Central Bank Of Nigeria, Mr. Patrick Aziza, Frank, Anderson, none officials of Oceanic Bank, Zenith Banks, Kelvin Young of HSBC, Ben of FedEx, Ibrahim Sule, Dr. Usman Shamsuddeen and some imposters claiming to be The Federal Bureau of Investigation.IMF
The Cyber Crime Division of the IMF gathered information from the Internet Crime Complaint Center (ICCC) formerly known as the Internet Fraud Complaint Center (IFCC) of how some people have lost outrageous sums of money to these imposters. As a result of this we hereby advise you to stop communication with any one not referred to you by us
We have negotiated with the Federal Ministry of Finance that your payment totaling $$10,000,000 be released to you via a custom pin based ATM card with a maximum withdrawal limit of $5,000 a day which is powered by Visa Card and can be used anywhere in the world were you see a Visa Card Logo on the Automatic Teller Machine (ATM). We have advised that this should be the only way at which you are to receive your payment because it's more guaranteed, since over $5 billion was lost on fake check year 2008.
Secondly, you are hereby advice to stop dealing with some non-officials in the bank as this is an illegal act and will have to stop if you so wish to receive your payment immediately. After the board meeting held at our headquarters, we have resolved in finding a solution to your problem, and as you may know, we have arranged your payment through our SWIFT CARD PAYMENT CENTRE in Europe, America and Asia Pacific Amsterdam, which is then instruction given by our president, Alhaji Umaru Musa Yar Adua (GCFR) Federal Republic of Nigeria.
We guarantee 100% receipt of your payment, because we have perfected everything in regards to the release of your $$10,000,000 States Dollars to be 100% risk free and free from any hitches as it's our duty to protect citizens of the United States of America And also Other Countries. (This is as a result of the mandate from US Government to make sure all debts owed to citizens of American which includes Inheritance, Contract, Gambling/Lottery etc are been cleared for the betterment of the current economic status of the nation and its citizens as he bas always believed "Our Time for Change has come" because "Change can happen").
Below are few list of tracking numbers you can track from UPS website to confirm people like you who have received their payment successfully.
Name : Donna L. Vargas: UPS Tracking Number: 1Z757F991598420403 (www.ups.com)
Name : Rovenda Elaine Clayton: UPS Tracking Number: 1Z757F991596606592 (www.ups.com)
This card centre will send you an ATM CARD which you will use to withdraw your money in an ATM MACHINE in any part of the world, but the maximum is ($15,000.00) Five Thousand Us Dollars per transaction. So, if you like to receive your fund this way, $15,000 usd for you to withdraw for a day and each transaction is $ 5,000 usd minimum which you have to withdraw $15,000 usd for one working day also be informed that the total amount in the SWIFT ATM CARD is $$10,000,000 Million United State of America Dollars.
(1)Your Full Name:
(2)Your Address where you want the payment centre to send your ATM CARD.:
(3)Phone and Fax Number
(4)Age:
(5)Occupation:
(6)Your Nearest International Air Port in your City of residence:
(7)Company Name:
We shall be expecting to receive your information's from you to verify and commence delivery of your awarded ATM card, you have stop any further communication with anybody or office. On this regards, do not hesitate to contact me for more details and direction, and also please do update me with any new development.
Thanks for your co-operation.
Best Regards,
DIRECTOR OF INTERNATIONAL
REMITTANCE DEPARTMENT
MR MORGAN BENZ) MANAGER
MATWEST INTERNATIONAL BANK PLC
LAGOS BANK OF NIGERIA
TELEPHONE +234-80515-43054
Note: Disregard any email you get from any impostors or offices claiming to be in possession of your ATM card, you are hereby advice only to be in contact with MR MORGAN BENZ) of the ATM card center who is the rightful person to deal with in regards to your payment and forward any emails you get from impostors to this office via the above fax number so we could act upon it immediately. Help stop cyber crime.
---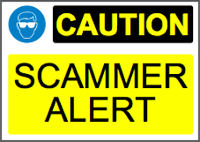 Scam alert! The E-mail above is a SCAM. It's a Nigerian scam, the story and all names & roles are fake. The IMF has nothing to do with this! The scammers will ask you for money as 'costs' before you get the 'funds' (which you will never get offcourse).
If you've received this by e-mail than mark it as SPAM (if possible) and/or DELETE it.