| | |
| --- | --- |
| Subject:   | GOOD DAY, |
| From:   | "carlos sargio" <carlosmailer2000@web.de> |
| Date:   | Mon, April 12, 2010 |
| To:   | carlosmailer2000@web.de |
GOOD DAY,
I am a Senior Auditor working with a Bank here in Spain, I need your assistance in repatriating $8.5m left behind by a late customer, a USA citizen who died with his entire family before it is declared unserviceable. Every attempt to trace any member of his family has proved unsuccessful and abortive. I will give you more information upon your response to this proposal on how to go about the claim and the percentage we would get from the fund. My Email: dr.heerema_peter_john1@ozu.es
Best Regards,
DR.HEEREMA PETER JOHN
GRATIS für alle WEB.DE-Nutzer: Die maxdome Movie-FLAT!
Jetzt freischalten unter http://movieflat.web.de
---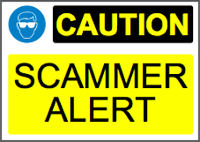 Scam alert! The E-mail above is a SCAM. It's a Nigerian scam, the story and all names & roles are fake. The scammers will ask you for money as 'costs' before you get the 'inheritance' (which you will never get offcourse).
If you've received this by e-mail than mark it as SPAM (if possible) and/or DELETE it.