| | |
| --- | --- |
| Subject:   | Classified-Proposition 27/03/2010. |
| From:   | "De Santa Jimmy" <zhicxxk@zhuhai.gov.cn> |
| Date:   | Sun, March 28, 2010 |
HELLO FRIEND,
PLEASE BEAR WITH ME FOR NOW AND DO NOT ASK MY NAME. WHAT I HAVE MAY BE OF INTEREST TO YOU. IT IS A BUSINESS PROPOSAL THAT WILL BE BENEFICIAL TO YOU AND I.
I LIVE IN LONDON, UNITED KINGDOM. I AM 51 YEARS OLD AND I HAVE BEEN WORKING IN A BANK IN LONDON FOR THE PAST 17 YEARS WHERE I AM PRESENTLY AN ACCOUNTS MANAGER. I WILL GIVE YOU MY FULL DETAILS ON YOUR REPLY TO THIS LETTER. MY AIM OF CONTACTING YOU IS TO SOLICIT YOUR CO-OPERATION AND ASSISTANCE BASED ON ONE OF THE ACCOUNTS UNDER MY MANAGEMENT CONTAINING $18.5MILLION (EIGHTEEN MILLION & FIVE HUNDRED THOUSAND DOLLARS) WHICH HAS REMAINED DORMANT FOR THE LAST TWELVE YEARS. THIS ACCOUNT WAS OWNED BY THE LATE MRS. REBECCA ROLDAN AND FOLLOWING MY INVESTIGATION, I FOUND OUT THAT SHE DIED ON MAY 1992 VIA A CAR CRASH IN THE BAHAMAS AND SHE LEFT NO CHILDREN OR NEXT OF KIN.
I WILL INFORM YOU MORE ON HOW WE CAN GET THE MONEY IN HER ACCOUNT TRANSFERED INTO YOUR ACCOUNT IF YOU AGREE TO CO-OPERATE WITH ME ON THIS ON YOUR REPLY TO THIS MAIL.
I WILL ALSO GIVE YOU MORE PERSONAL DETAILS OF ME AND THE TRANSACTION ON YOUR REPLY. PLEASE TREAT THIS AS CONFIDENTIAL, URGENT AND OF UTMOST IMPORTANCE.
PLEASE RESPOND ONLY VIA: desantaj@london.com
---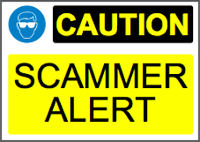 Scam alert! The E-mail above is a SCAM. It's a Nigerian scam, the story and all names & roles are fake. The scammers will ask you for money as 'costs' before you get the 'inheritance' (which you will never get offcourse).
If you've received this by e-mail than mark it as SPAM (if possible) and/or DELETE it.