| | |
| --- | --- |
| Subject: | CLAIMING IS FREE OF CHARGE**REPLY BACK IMMEDIATELY!! |
| From:   | UN DONATION AWARD <test@xinxira.com> |
| Date:   | 2018-06-05 |
| To:   | Recipients <test@xinxira.com> |
| Reply-To:   | unitednationstttt861@gmail.com |
Dear: Lucky Winner.
Your Email address was selected to claim the sum of $ 2,500,000.00 USD
in the 2018 United Nations Donation Award. In Order to claim your funds,
simply provide the below information details for claim. This funds will
be loaded in an ATM Card with your name as the owner and it will be
deliver to your house address.
(1) YOUR FULL NAME :
(2) MOBILE PHONE NUMBER :
(3) CURRENT ADDRESS :
(4) FAX NUMBER :
(5) COUNTRY:
(6) CITY :
(7) NEAREST AIRPORT:
(8) POSTAL CODE ADDRESS:
(9) AGE:
(10) OCCUPATION:
NOTE: CLAIMING IS FREE OF CHARGE
Thanks
Garry Lee
UN Claim Agent
---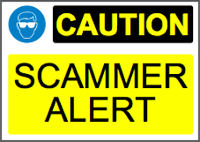 Scam alert! The E-mail above is a SCAM. It's a Nigerian Lottery scam, the story and all names & roles are fake. The real UN has nothing to do with this. Althou they state "Claiming is Free of Charge" these scammers will find ways to ask you for more and more money upfront as 'costs' before you get the 'prize' (which you will never get offcourse).
If you've received this by e-mail than mark it as SPAM (if possible) and/or DELETE it.