| | |
| --- | --- |
| Subject: | Attn: ATM Code 005,, |
| From:   | "Mrs.Jessica Tony."< <"www."@vanilla.ocn.ne.jp> |
| Date:   | 2017-09-14 |
| To:   | |
| Reply-To:   | mrsjessicatony@tutamail.com |
Global Payment Restoration Officer
Plot 301 ZA Akin Olugbade Street,
Lagos State. Nigeria.
Attn: ATM Code 005,
Your name has been found in the Central Computer among the list of unpaid foreign recipients.Thereby the government has directed an initial expense payment of $650,000.00 to 16 recipients and you are among those recipients to receive the expense payment of $1.5M scheduled to pay between today and the 14th of Sep. 2017.Payment is to be effected through any of the means below Wire Transfer.
Cheque
Drop Transfer
Master Card/Visa Card
Western Union/Money gram
Failure to indicate a receipt of this email within 72hrs will be perceived as non acceptance of the offer and will result in your name been omitted from the list and your payments issued to another recipient. You are to communicate with Mrs. Jessica Tony through email address below:
(mrsjessicatony@tutamail.com)
Mrs.Jessica Tony.
Restoration Officer
HOW ARE YOU TODAY?
---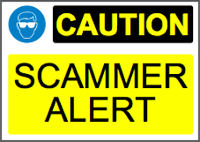 Scam alert! The E-mail above is a SCAM. It's a Nigerian scam, the story and all names & roles are fake. The scammers will most likely ask you for money upfront as 'costs' before you get the 'funds' (which you will never get offcourse).
If you've received this by e-mail than mark it as SPAM (if possible) and/or DELETE it.