| | |
| --- | --- |
| Subject: | I NEED TRUE LOVE |
| From:   | Clara Anita Morgan <clara.morgan@cantv.net> |
| Date:   | 2017-10-22 |
| To:   | Recipients <clara.morgan@cantv.net> |
| Reply-To:   | claraanitamorgan2@bigmir.net |
Hello,
How are you today, hope you are doing well? I think you did not expect my letter.I got your email address when I was browsing through Google then decided to write you. Am sorry if I have offended you in any way by sending you this mail.My name is Clara Anita Morgan from London,United Kingdom.. Am 36 years and single. Am working at the hospital asa receptionist.
These days people meet their soul mates online but i do not know yet whether you are the one for me.What can i tell you about myself? I am an active woman, confident of myself? I work hard. Will love to share some of my passions in life with someone that can share those moments with me. I am pretty open minded person that enjoys the world as much
as I can, love my family and love to spend as much time as possible with them. Animal lover.
A warm hearted person with a huge smile and heart to match. I love to spend time outside in the summer enjoying the beautiful weather while it lasts! I am a very positive person with a lot of love to give. I would love to have that special man in my life that makes my pulse race when I hear his voice. The one that gives me that silly little smile. And I would love to be the one to do that for him. The man to hold my hand will be compassionate, passionate and loving with a respect for all and a warm sense of humor. Someone to hug and snuggle with and share long sweet kisses (in private of course) So now it's your turn what can you tell me about yourself? I will send you my photos as soon as i read from you.Can you Pls.Tell me where you live, your age, and your preferences. Sorry if you received this mail in your spam, is due to recent connection error from the service provider.
Stay blessed and enjoy the rest of your day
Sincerely
Clara Anita Morgan
---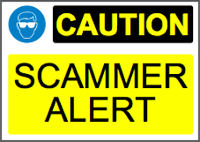 Scam alert! The E-mail above is a SCAM. It's a Nigerian Romance scam, the story and all names & roles are fake. The scammers will try to befriend you and after some time ask you for money. You will never get to see your 'date' (who doesn't exist offcourse).
If you've received this by e-mail than mark it as SPAM (if possible) and/or DELETE it.