Several Dutch folks received another fake fine scam early 2018 from the same or other scammers who sended the fake "official" (looking) CJIB fine to be paid in Bitcoin from october last year. This time they used an IBAN bank-account instead of a Bitcoin address, but it's an Irish bank account!
The Dutch e-mail text is displayed below:
---
| | |
| --- | --- |
| Date:   | 2018-01-08 |
| To:   | your@email.address |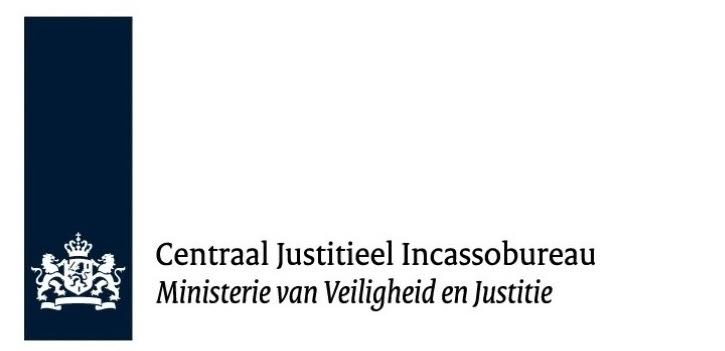 Aan: your@email.address
Geachte bestuurder,
U heeft een beschikking en vervolgens twee aanmaningen ontvangen over het overtreden van een verkeersvoorschrift.
Wij hebben u meerdere malen per brief verzocht om de betaling te voldoen. Het openstaande bedrag is tot heden niet op de rekening van het Centraal Justitieel Incassobureau (CJIB) bijgeschreven.
U kunt persoonlijk bij het BKR inzage krijgen over de informatie die het BKR over u heeft
ontvangen. Wij zullen wij uw bank opdracht geven om beslag te leggen op uw rekening
vanaf vrijdag 05-01-2018 tot het volledige bedrag is voldaan. Dit houdt in dat u geen toegang meer heeft tot uw rekening en geld.
Omschrijving: Overtreding overschrijding maximum snelheid op autosnelweg met 13 km/h
Feitcode: NP447
Datum: 12-06-2017
Toegestane snelheid: 100 km/h
Gemeten snelheid: 117 km/h
Gecorrigeerde snelheid: 113 km/h
Opgelegde sanctie: € 205,00
Administratiekosten: € 9,00
Te betalen: € 214,00
U bent verplicht het openstaande bedrag te betalen. Het volledige bedrag van € 214,00 moet uiterlijk 05-01-2018 zijn bijgeschreven op het rekeningnummer IE16PFSR99107004256806 van CJIB Leeuwarden. De betalingskenmerk is 4854-6382-4388-0370. Let op u kunt geen betalingsregeling meer treffen.
Niet betalen
Wij zijn dan genoodzaakt uw rekening te blokkeren.
Bent u het niet eens met de beschikking? Dan kunt u na de betaling in hoger beroep gaan bij de officier van Justitie van Parket Centrale Verwerking Openbaar Ministerie (Parket CVOM).
Wij vertrouwen erop u hiermee voldoende te hebben geinformeerd
Alvast hartelijk dank voor uw medewerking.
Hoogachtend
Centraal Justitieel Incassobureau
---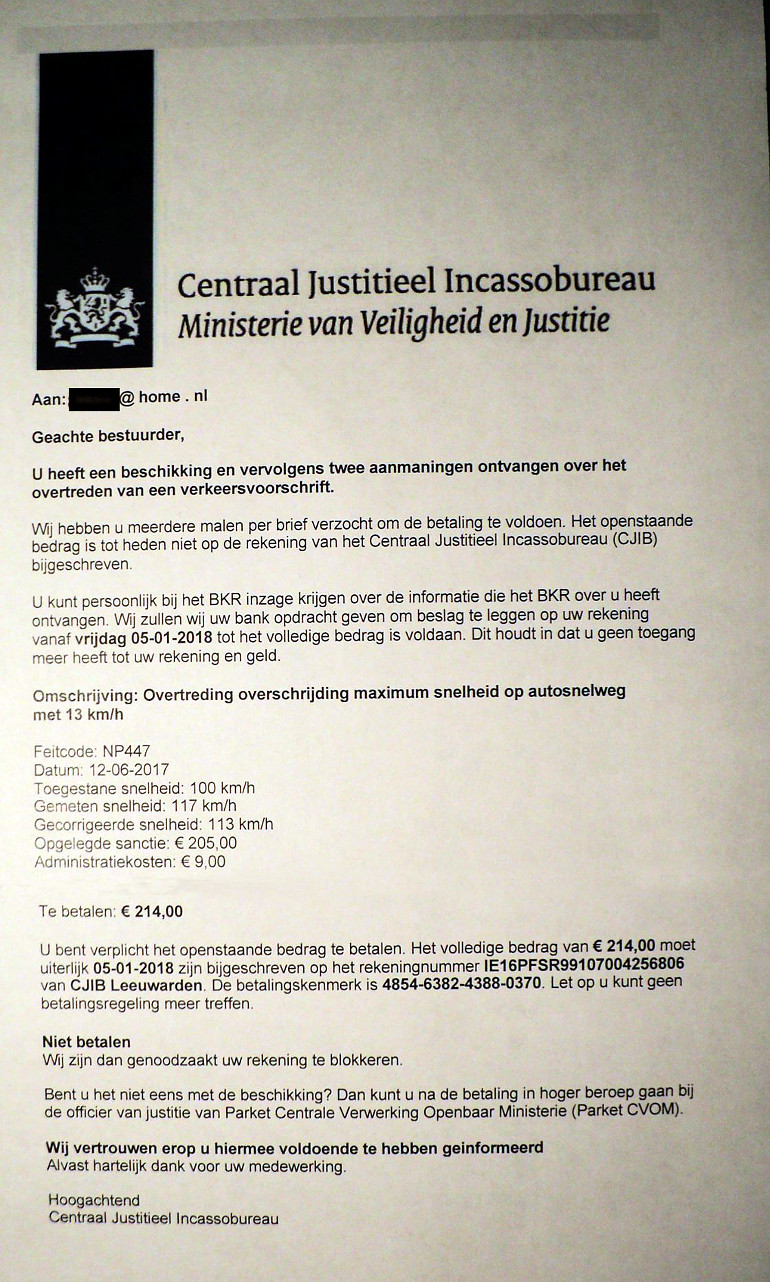 ---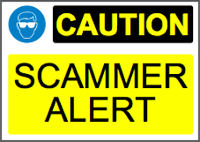 Scam alert! The E-mail above is a SCAM. It's a phishing scam where they fake the Dutch fine authority (CJIB) demanding you pay the fine to an account in Ireland instead of a Dutch NL bank!
[NL] De boete is NEP! Het CJIB zal nooit boetes per e-mail sturen en al helemaal geen betalingen via een buitenlandse rekening laten lopen! Lees hier meer over dit soort nepmails op de website van het Centraal Justitieel Incassobureau. Zie hier meer voorbeelden van nep CJIB e-mails.
If you've received this by e-mail than mark it as SPAM (if possible) and/or DELETE it.