| | |
| --- | --- |
| Source: | Received as a comment on this website (post: lonely Marina) |
| Author:   | David Harry <d_harry86@yahoo.com> |
| Location:   | 50.7.82.66 (Madrid, Spain) |
| Date:   | 2016/10/26 10:47pm |
David Harry Music
David Harry Music Foundation
26, October 2016
Fort Wayne, IN
Dear Sir/Ma
DAVID HARRY MUSIC APPLICATION FOR AN OTHER FUND
We would like to make an application for 57,000 US Dollars from the AN Other Fund. We are a group of local people in Lagos, Nigeria and we have recently set up a community group running free Educational activities for children in the area.
We were mainly inspired to start the club for the Music Ability/Career for our children at school. We have 32 parents involved, plus 26 other local volunteers. Over the last four months we have run weekly activity sessions in the park, which have been attended by over 63 local children.
We formally adopted our constitution on 10th July 2012. This is enclosed. Our aims are:
• Provide a safe, fun environment where all local children aged 7-11 are welcome.
• Encourage children to take part in physical activity and develop healthy habits and lifestyles.
• Provide particular support for families whose children struggle with school, or have difficulty making friends, by linking children up with individual one-to-one volunteers who support them to access the sessions and build friendships with other Families.
We have begun our activities in the summer months. By borrowing equipment from a local primary school, and running our sessions in the park, we have kept our costs very low.
Our weekly sessions have become very important to those involved. One parent said "Taking part in David' Music Summer means that my son has had a chance to make Improve in Education and Music Career. He is sometimes bullied at school, and finds it hard to Cope with Education . David Harry's Music/Educational Associates has made him much happier and this has helped his confidence and he is now even enjoying school more."
We want to provide a continuous experience for the families involved, and get more people involved. For this reason we would like to run indoor activities from November 2016 – April 2017
We are applying to AN Other fund for 10,000 US Dollars to cover the costs of hiring a Musical Instrument and Sports hall for weekly activities, plus three swimming sessions and one Christmas ice skating session.
We will provide feedback forms after every activity.
You Will Pay Through Western Union, Then Send Details to
Email Address: d_harry86@yahoo.com
We have enclosed a copy of our constitution. Please see below a budget for our project, showing how we intend to spend the money we have asked for.
We do not yet have annual accounts, as we have not been running for long enough. We will get our accounts externally examined at the end of the year. Since. We have spent Over 15,000 Dollars on equipment hire, refreshments and publicity. We have been able to access a free meeting room at a primary school. Our current bank balance is £4
Please don't hesitate to get in touch if you would like any more information. Thank you for your consideration.
Yours sincerely,
David Harry
Email Address: d_harry86@yahoo.com
---
| | |
| --- | --- |
| Source: | Received as a comment on this website (post: dying Mrs. Christy Walton) |
| Author:   | David Harry <d_harry86@yahoo.com> |
| Location:   | 50.7.82.66 (Madrid, Spain) |
| Date:   | 2016/10/26 10:36pm |
Please there is an Ongoing Charity Donation Please Send Me the Detail Via Email:d_harry86@yahoo.com
---
| | |
| --- | --- |
| Source: | Received as a comment on this website (post: you won 500,000) |
| Author:   | SAmon <samsonmecury1@gmail.com> |
| Location:   | 50.7.82.66 (Madrid, Spain) |
| Date:   | 2016/10/26 10:33pm |
Please I Got your Massage Email me @ d_harry86@yahoo.com
---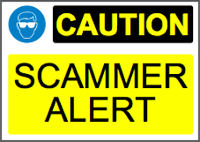 Scam alert! Well isn't this interesting. Nigerian scammers 'asking' for money instead of promising money…! Spammed on our site from Madrid, Spain?! Well.. thanks for reporting this scam.. Mr. David Harry!
The message above is a SCAM. The charity most likely doesn't exist and the story and all names & roles are fake.
If you've more information and/or received this message too please comment below. Describe how you got it (as an e-mail or comment? The message etc), thanks in advance!