We've seen a scam mail about lottery winner Mavis Wanczyk before, this time it's (machine) translated into Dutch:

| | |
| --- | --- |
| Subject: | RE |
| From:   | Mavis Wanczyk <cms@pjf.mg.gov.br> |
| Date:   | 2018-04-02 |
| To:   |   |
| Reply-To:   | Mavis Wanczyk <maviswanczyk20@yahoo.com> |
Hallo je hebt een liefdadigheidsinstelling donatie van 5.800.000,00 EUR, ik won de Amerika loterij in Amerika ter waarde van $758.700.000 en ik doneer een deel van het aan vijf gelukkige mensen en liefdadigheid huizen in het geheugen van mijn overleden man die op kanker is overleden, contact met mij op voor meer informatie : maviswanczyk20@yahoo.com
Groeten
Mevrouw Mavis Wanczyk
---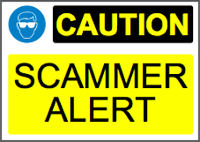 Scam alert! The E-mail above is a SCAM. It's a Nigerian Donation scam, the story and all names & roles are fake. The real Mavis Wanczyk has nothing to do with this. These scammers will most likely ask you for money upfront as 'costs' before you get the 'funds' (which you will never get offcourse).
If you've received this by e-mail than mark it as SPAM (if possible) and/or DELETE it.