We've seen a very similar story before, probably from the same Nigerian scammer. This time the name is a little different, new e-mail addresses and they edited the story a bit.
| | |
| --- | --- |
| Source: | VERY CRUCIAL |
| From:   | lytay seng <testuser@mixion.ru> |
| Date:   | 2018-04-24 |
| To:   | |
| Reply-To:   | ly_o4seng@yahoo.com |
GREETINGS,
I am Ly Seng, a personal Accountant/Executive board of Directors working with Foreign Trade Bank of Cambodia(FTB). I have an interesting business proposal for you that will be of immense benefit to both of us. Although this may be hard for you to believe, we stand to gain a huge amount between us in a matter of days. Please grant me the benefit of doubt and hear me out. I need you to signify your interest by replying to my mail.
Most importantly, I will need you to promise to keep whatever you learn from me between us even if you decide not to go along with me. I will make more details available to you on receipt of a positive response from you.
I am in good faith and with trust waiting for your Urgent respond and maximum cooperation for more details.
Best Regards,
Mr.Seng
Board Directors
Foreign Trade Bank of Cambodia
Phnom Penh.
---
[Update] May 18, 2018
Today the scammers sended the exact same message but they replaced "Mr. Seng" with "Mr. Chan Sokheng".
---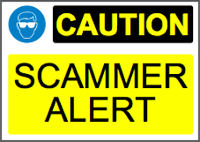 Scam alert! The E-mail above is a SCAM. It's a Nigerian Money scam, the story and all names & roles are fake. The scammers will ask you for money upfront as 'costs' before you get the 'funds' (which you will never get offcourse).
If you've received this by e-mail than mark it as SPAM (if possible) and/or DELETE it.