Good day,
Do you need an urgent loan to solve your financial needs, provide loan ranging from $ 3,000.00 to $ 1000,000.00
Max, we are reliable, efficient, fast and dynamic, with 100% guaranteed loan also it gives (euros, pounds and
dollars .) the interest rate applicable to all loans is (3%), if you are interested get back to us.
through (suncash8@gmail.com): Services provided include:
* Home improvement
* Loans Inventor
* Debt Consolidation Loan
* Business Loans
*Personal loans.
contact us today and we are glad to do business with us
email: suncash8@gmail.com
DO YOU NEED AN URGENT LOAN TO SOLVE YOUR FINANCIAL NEEDS
Consolidation Loans Up to :$900,000.00
Blacklisted, ITC,Personal & Consolidation & Home Loans up to $5million
offers Fast; Convenient; Reliable+/-3 Hours to Approve! 100% Success Rate!
Qualification:
1.Blacklisted can apply
2.No credit check
3.Debt review or court order can apply
4.ITC can apply
5.No Job can apply
Home Loans up to $5Million Dollars
Personal Loans of Up to $1,000,000.00
plus Debt Consolidation Loans of Up to $2,000,000.00
Business Loans of Up to $10Million
Reply to this advert for an application form by emailing:[suncash8@gmail.com]
No credit check required, All clients are welcome, If you consider your problem to be a thing of the past they are
here now to help you out from all these problems and difficulties that you are facing financially.
They give out loans to people from the age of 25years and above. they give out loan in any of the currency you want
and also the interest rate is very affordable which is 5% interest rate per annual.
Available Loan:
* Vehicle Loans
* consolidate all your outstanding debts
* Personal loans
* Business Loans
* Refinance Loan
* Home Improvement
* Debt Consolidation
* House Loans
* Car Loan
* International Loans and many more.
Interested Applicant(s) should reply to this advert by Emailing at: suncash8@gmail.com for More info, and for your
dream loan thank you.
---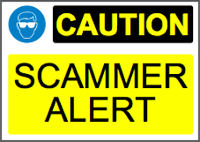 Scam alert! The message above is a SCAM. It's a Nigerian Loan scam, the story and all names & roles are fake. The scammers will most likely ask you for money upfront as 'costs' before you get the 'loan' (which you will never get offcourse).
This message was left as a comment spam on our site from Germany! (Possibly through a hacked PC or site, or through a VPN/Proxy.) Well.. thanks for reporting this scam..!

If you've more information and/or received this message too please comment below. Describe how you got it (as an e-mail or comment? The message etc), thanks in advance!