| | |
| --- | --- |
| Subject: | Congratulations To This Email |
| From:   | YAHOO ASIA <test@chemia.bialystok.pl> |
| Date:   | 2017-10-12 |
| To:   | |
| Reply-To:   | yah.asiapromo@yahoo.com |
Dear Email Beneficiary!!
Congratulations as your email address has qualified you a winning on the on-going YAHOO ASIA season organized award international email lottery promotion. You should know you have been entitled to claim a sum Of USD 1,000,000 ( One Million United States Dollars ) cash prize winning.
You are advised to kindly report immediately for your claim on this email: yah.claimdept@yahoo.com and also informed with your necessary details of recognition. ( e.g Full Name, Residential address, Country, Telephone Number, Sex and Age ).
Yours Sincerely
Yahoo Team
Asia Pacific Regional
Bangkok Thailand.
---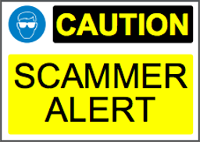 Scam alert! The E-mail above is a SCAM. It's a Nigerian Lottery scam, the story and all names & roles are fake. Yahoo has nothing to do with this fake story! The scammers will most likely ask you for money upfront as 'costs' before you get the 'prize' (which you will never get offcourse).
If you've received this by e-mail than mark it as SPAM (if possible) and/or DELETE it.