| | |
| --- | --- |
| Subject: | Lees nu |
| From:   | I.C kennisgevingen <beveiligen@mailnl.com> |
| Date:   | 2018-04-05 |
| To:   | your@email.address |
Hallo beste klant,

Helaas moeten we u meedelen dat uw account tijdelijk is opgeschort.
We schorten accounts meestal op wegens een of meer van de volgende redenen:
1- Het account is gebruikt vanop een ongewone locatie en apparaat (mobiel of computer).
2- Er waren vele mislukte pogingen om te betalen of geld over te boeken.
3- Gerapporteerde fraude door de accounthouder of verkopende partij.
De opschorting is een tijdelijke maatregel die we nemen om zowel onze klant als de verkoper tegen fraude te beschermen.
Dit is bedoeld om iedereen veilig te houden, totdat we het probleem met onze klant kunnen oplossen.
We moeten met u communiceren om dit probleem op te lossen. Er zijn twee manieren om dat te doen:
1- Bezoek het dichtstbijzijnde filiaal in uw omgeving met uw nationale identiteitskaart of paspoort.
2- U kunt het probleem ook onmiddellijk oplossen en uw account blijven gebruiken zoals gewoonlijk. In dit geval moeten we uw identiteit verifiëren tegenover de eerste geregistreerde informatie op het moment van registratie en de laatste betalingsgegevens.

* Om het probleem op te lossen en toegang tot uw account te krijgen klik a.u.b. hier.

-We hopen dat u begrijpt dat alles wat we gedaan hebben voor uw best en voor de veiligheid van uw account is.
-Antwoord a.u.b. niet op deze e-mail, omdat we u niet kunnen helpen, behalve dan op de bovenstaande manieren.
Met vriendelijke groet.




International Card Services B.V. [NL]
Ruben Sloss
ICS Cards Nederland.
Postadres: Postbus 23573
1100 DS Diemen.
Bericht-ID: ICS-OLCYR-31300a0ea-NL.
Emailen: your@email.address .
Datum: 4/5/2018 8:15:46 AM .
---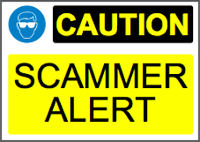 Scam alert! The E-mail above is a SCAM. It's a Phishing scam (in Dutch), trying to get your bank-details by luring you to a fake bank website. The message is all fake. The real ICS dit NOT send this. Be warned!
If you've more information and/or received this message too please comment below. Describe how you got it (as an e-mail or comment? The message etc), thanks in advance! Also always report any phishing email to the bank they are targeting!

---
The link in the email (pointing to a webpage on http://registration.lasu.edu.ng) leads to a fake International Card Services (ICS) website, see screenshot below: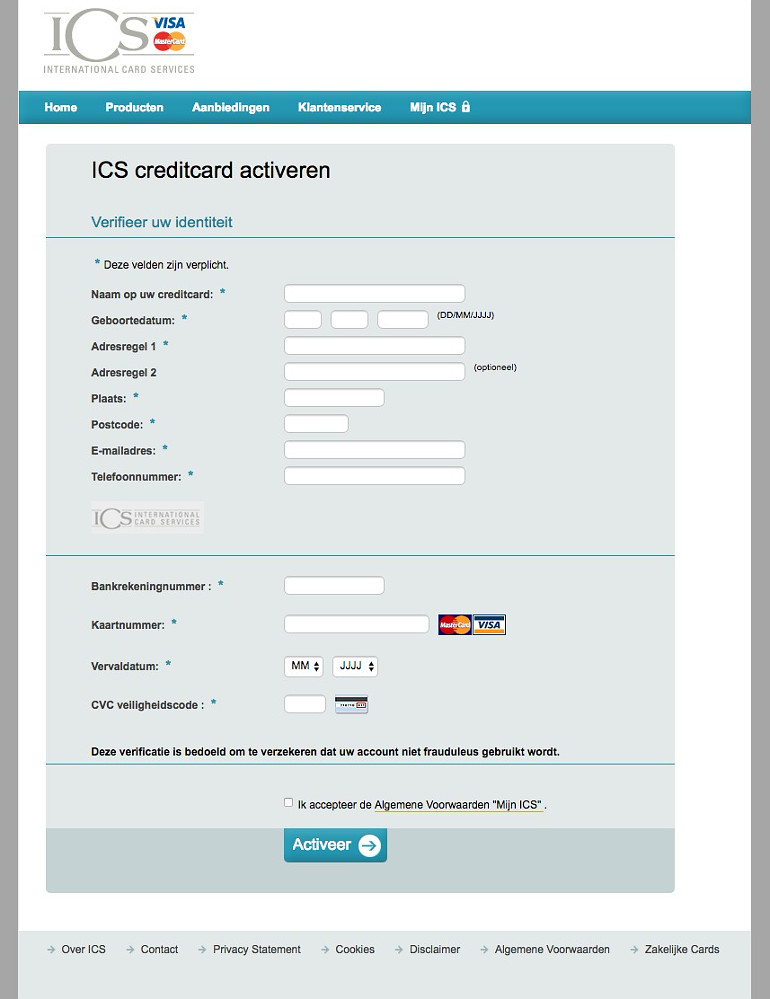 All links in the header and footer menu's lead to this same page. After entering your details you will see this form again. Now they have your creditcard details to abuse which they will do a.s.a.p.
The fake ICS website is hosted on a Nigerian domainname. The name suggest it's based in the Lagos State University.
Unfortunately, the Nigerian whois-server failed after entering the domainname to verify the owner but the website on www.lasu.edu.ng does seem to be owned by the Lagos State University.
However, the used sub-domain seems to point to a server in the US:

registration.lasu.edu.ng has address 166.63.2.192

GeoIP Country Edition: US, United States
GeoIP City Edition, Rev 1: US, MA, Massachusetts, Burlington, 01803, 42.505100, -71.204697, 506, 781
GeoIP ASNum Edition: AS32392 The Endurance International Group, Inc.