Does your inbox have an unexpected email from Ticketek with a 'ticket confirmation' to an upcoming event?
These are highly realistic but fake messages aimed at luring you to click on a link to print tickets, and are most likely timed to coincide with the respective Grand Finals occurring over the weekend.
But instead of downloading tickets to a footy match, horse race or popular stage show, you'll be downloading malware—malicious software designed to collect your personal and sensitive information, such as banking details.
Common subject lines are 'Thank you for buying coupon on Ticketek' or 'Thank you for acquiring key on Ticketek'.
The emails are linking to fake websites which contain the word 'ticketek' to make the website appear legitimate.
Protect yourself from malicious software by:
Not opening emails from unknown or suspicious sources and never opening email attachments or clicking on hyperlinks in these emails
Installing anti-spyware and anti-virus software and setting it to automatically check the product website for updates
Not using accounts with administrator access for everyday activities – for added security create guest accounts that cannot install software.
And remember: if it sounds too good to be true, it usually is! Delete the email immediately.
---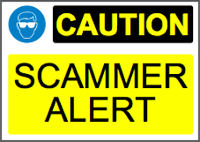 Scam alert! These E-mails described are a SCAM. The tickets are fake. Ticketek has nothing to do with this! Links in the e-mail contains a virus/malware to collect personal details.
If you've received this by e-mail than mark it as SPAM (if possible) and DELETE it.