| | |
| --- | --- |
| Subject: | ♄ $46,536.39 Transfer Pending: your@email.address |
| From:   | hostmaster@gmail.com via trusted6gig.com |
| Date:   | 2016-10-10 |
| To:   | your@email.address |
| Signed-By:   | trusted6gig.com |
Hey,
We have a Transfer Payment Pending in the amount of $46,536.39.
This is available for the email address relate to: your@email.address
* Click Here to Claim Your Funds *
You have 12 hours left to claim this bank transfer.
Sincerely,
Support
Click here for German Language
Click here Italian Language
Click here to Spanish Language
Unsubscribe here
---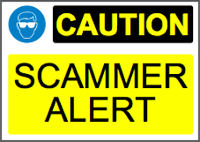 Scam alert! The E-mail above is a SCAM. It's a Phishing scam containing possible malware infected links (all links removed). The story and all names & roles are fake. The scammers will try to get your personal details for fraud usage and/or ask you for money as 'costs' before you get the 'funds' (which you will never get offcourse).
If you've received this by e-mail than mark it as SPAM (if possible) and/or DELETE it.